June 14, 2016 (Chicoutimi, QC) – Team RaceClean concluded the Grand Prix Cycliste de Saguenay stage race on Sunday with Ed Walsh of Halifax, NS, finishing third in the Young Rider classification, and 12th overall, after four stages and 581 kilometres of racing. Walsh was third in the final 150 kilometre stage, which took place in Chicoutimi.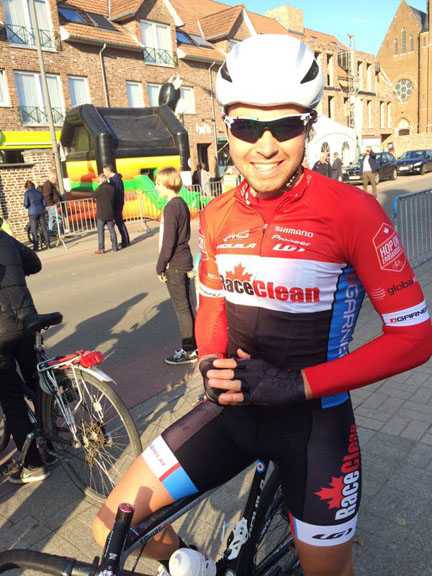 Canada was represented by Team RaceClean, consisting of members of the NextGen Men's Track Endurance squad, racing under the banner of Cycling Canada's RaceClean anti-doping program.
This four stage race is an internationally sanctioned event centered around Chicoutimi and the Saguenay region, with 19 teams from six countries participating.
In the final stage, Walsh sprinted for second place against eventually overall race winner Ryan Roth (Silber Pro), with both riders finishing one second behind stage winner Eric Young (Rally Cycling).  "It was super hard to be patient on that course and with that weather," commented Walsh.  "I just wanted to lay all my cards on the table early, but I waited all day and it payed off in the end."
Luc Arseneau, Team Manager and Road Development Coach, said "We were not in our best shape, but I'm very pleased with how the boys raced this week. They adapted very quickly and it now proves to us that we can race anywhere, at a high level."
"Ed's race today was a smart one. I often ask them to be patient, and this is very hard for them to understand at such a young age. It sure showed him, and the team, today that playing the waiting game can play in your favour."