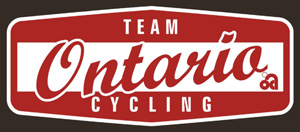 June 14, 2013 – The Ontario Cycling Association is pleased to announce the Ontario athletes that have been selected to the 2013 Canada Games team.
The games squad is a combination of experience and performance. "The 2013 Ontario CSG team has been involved in numerous projects and camps over the past 2 years, with a focus on reaching the high performance indicators of the OCA HP program" said OHPSI Head Coach, Brendan Arnold.
"Supporting athletes racing for Canada is one of the priorities. Canada Games is a step in the pathway that offers many athletes their first multi-sport games experience. We are proud of the athletes that have been selected and we wish them the best for the games and upcoming World Cup and World Championships events".
The men's road team is led by Kitchener's, Ryan Aitcheson, who represented Canada in Europe this year and has had solid results (including a top 10 finish in U23 at the An Post Ras in Ireland.) The women's road team is led by relative newcomer Annie Foreman-Mackey from Kingston. Annie took up the sport of cycling in 2010 after a long career in swimming.
The women's MTB- XC team includes World Cup XC athletes Cayley Brooks, Haley Smith and Laura Bietola. Haley had a 16th place finish at World Cup #1 this year and Cayley has had two top 25 WC finishes. Laura Bietola who raced the games in 2009 is back in 2013 and is ready to help Ontario compete for medals in Sherbrooke.
The men's team is led by World Cup athlete Mitch Bailey from Barrie, ON. Mitch has had a strong season with a 35th place at World Cup #1. Evan McNeely has had a strong comeback from some injuries in 2012, and has already been on the podium with a 2nd place at the BSP Canada Cup. The team is rounded out by 2010 Youth Olympic games athlete Steven Noble. Steven is a picture of consistency and will be looking for a medal in Sherbrooke.
The team is lead by coaches Mike Garrigan, Jenny Trew (CSG Women's Apprentice Coach) and Mechanic/Soigneur Alex Sanna.
MTB-XC Team  – August 2-8, 2013
Women
– Cayley Brooks – Newlowell, ON
– Haley Smith – Uxbridge, ON
– Laura Bietola – Greenwood, ON
Alternates
– Katlyn Dundas – St. Catharines, ON
– Sam Wagler – Waterloo, ON
Men
– Mitch Bailey – Barrie, ON
– Evan McNeely – Kingston, ON
– Steven Noble – Glencairn, ON
Alternates
– Marc Antoine Nadon – Timmins, ON
– Peter Disera – Barrie, ON
Road Team – August 10-17, 2013
Women
– Emily Flynn – Ottawa, ON – Automatic Selection (Road Selection event)
– Annie Foreman Mackey – Kingston, ON
– Sarah Rasmussen – Ancaster, ON
– Steph Bester – London, ON
– Saskia Kowalchuk – Ancaster,ON
Alternates
– Madeleine McConnell – Ancaster, ON
– Sarah Mason – London, ON
Men
– Etienne Moreau – Collingwood, ON – Automatic Selection (Road Selection event)
– Ryan Aitcheson – Kitchener, ON
– Matteo Dal-cin – Ottawa, ON
– Jordan Cheyne – Peterborough, ON
– Kevin Massicote – Toronto, ON
Alternates
– Brandon Etzl – St. Catharines, ON
– Brandon Spencer – Peterborough, ON