May 15, 2013 (Granby, QC) – The Grand Prix Cycliste de Granby Time Trial was held under grey skies as the 4th stage of the Tour de la Monteregie. Without surprise, Remi Pelletier-Roy (Garneau-Quebecor) won the stage with a record time of 22 minutes, 39 seconds and 90 hundredths of a second, followed by his teammates Alex Cataford and Adam Farabaugh to complete the podium.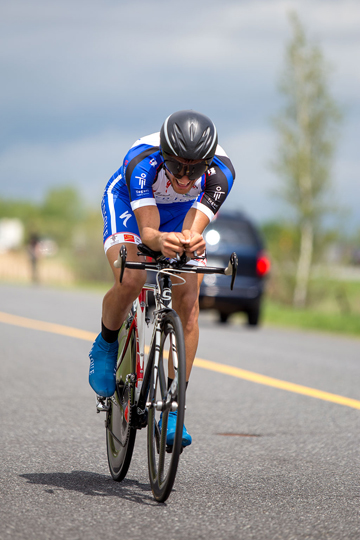 James Piccoli was ready for the stage physically as well as mentally for this time trial and announced prior to the stage: "I am well-prepared for Granby. Too often people underestimate me, but Saturday I will show that my form is there. I am going a bloc and it will surprise a lot of people." And he definitely followed up on his word! For the 3rd time in a stage of the TdlM, James came 4th on the day with an average speed of 47.437km/h.
The event of 19km was held under very windy conditions. The wind was coming from the South, so was a headwind through the start-finish line. The rain stopped as the Senior 1 riders were starting their rides, so they enjoyed a dry course, which made life easier for everyone.
"Every Medique racer gave their best effort today. Some were disappointed, others obtained personal goals, but all are very proud of James' impressive result," says Clodine Gilbert, team director.
While writing this, we still don't have the results of the General Classification of the TdlM after the Granby stage, where Elliot Doyle was in 3rd place and James in 10th. However, with another top 5 today, James definitely climbed up a few spots.
We would also like to congratulate Arthur Silber and Gene Piccoli, who took part in their first ever race on the FQSC calendar. Team Medique p/b Silber Investments also wants to thank the organization of the Granby TT in collaboration with the TdlM.
Full results HERE.