December 21, 2015 – The women's cycling team Macogep powered by SAS MAZDA and Specialized is pleased to announce the arrival of Quebec bicycle manufacturer Argon 18 as the new official bike partner for the coming season. Argon 18 is an internationally recognized bike brand that will take over from Specialized, which brought huge support to the team for nine years with bikes and equipment geared for women.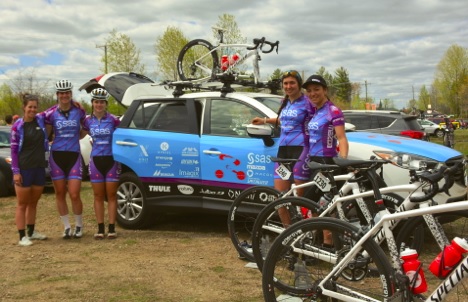 This new partnership with ARGON 18 will allow us to continue our adventure in the coming years and regain our international UCI license in 2017. For the 2016 season, our athletes will ride on Gallium Pro-models for road and E118 for time trials. These are the same bikes as the men's team BORA – ARGON 18 uses for UCI pro-continental level racing.
Specialized will remain with the team in 2016 as an equipment sponsor – supplying helmets, shoes and tires. It is much appreciated that Mr. Larry Koury and Mr. Karim Nathoo of Specialized, are continuing the adventure with us. Thanks to them, we were able to reach the international level and evolve among the great teams in 2011 and 2013.
Thanks as well to Mr. Gervais Rioux and the team at ARGON 18 for their confidence in our women's team.
You are invited to follow next year's success of our athletes!