June 28, 2012 (Belgium) – Slipstream Sports recently welcomed Sharp as a new co-title sponsor and today unveiled its new team kit, which will be ridden for the first time at the 2012 Tour de France. The kit was created by the team's innovative technical clothing partner, Castelli.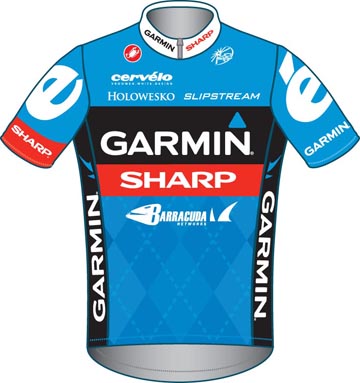 The new jersey and shorts prominently display the Sharp logo and retain the distinctive Garmin and Barracuda logos. The signature Slipstream Sports argyle is, of course, incorporated.
"We are thrilled to welcome Sharp to the team's family. Team Garmin-Sharp-Barracuda is the most tech-savvy team in the peloton and the addition of this new sponsor, prominently displayed on the new kit, is special for all of us involved," said Steve Smith, Castelli Brand Manager.
"Additionally, this team is rider-centric, and Castelli has done its part once again to make sure the riders have the most comfortable and technically-advanced clothing for all racing and training, and especially for the Tour de France.
"In addition to the new colors, the riders will be wearing the updated light weight hot weather shorts and jerseys that the Giro d'Italia crew tested and improved. We're counting on similar success with the clothing in the heat of France in July."
The new Team Garmin-Sharp-Barracuda kit will be available at the end of July at Castelli dealers and is also available now for pre-order HERE.