September 28, 2011 (Rochester, NY) – On Sunday I headed out to Rochester to line up for the 2nd running of the UCI race in Elllison Park. The Race had three fast European-based pros on the start list along with last year's winner Justine Lindine and former Canadian Champ, Mike Garrigan. This was my first race in a few years without the family along to cheer and I still only did a few laps of the course as I just am used to not having a big warm up and knowing the course to a tee. Also it was like 28C out and sitting in the shade was much nicer.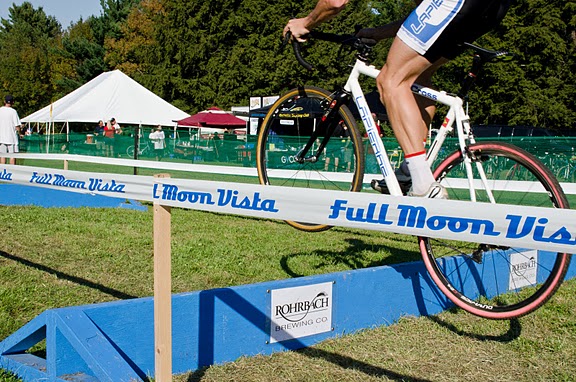 The race course was more of a power circuit with a semi technical fast descent. The lap times were in around the 6-minute range (well at least for the top guys).  Off the gun I had an okay start but was not in the mix for the lead train. On the first power section I went off trying to bridge up to the lead group of 6 or so riders and got tangled up with a passed rider and ended up snapping a rear spoke.
I had my fellow Team CF master teammate in the pits and proceeded over the next two laps to switch bikes three or four times due to mismatched wheels and bad decisions on my part. In the end both Kona Major Jakes held up nice – it really came down to "user error" that caused most of my issues for the day.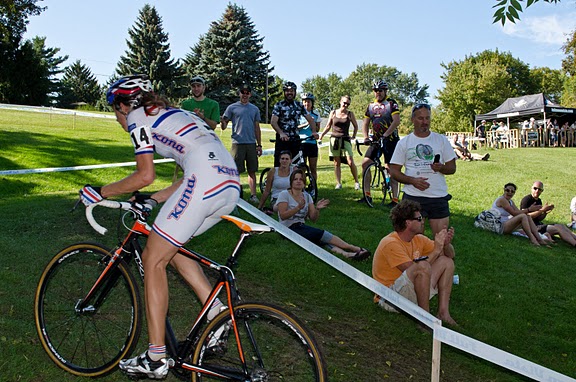 After I finished my gong show audition the leaders were well (like 1/2 a lap) ahead and I was left in 12th spot with a bit of work in front of me to get into the points (top 10). I finally got things under control and put some good laps together and managed to get up to 10th and was 10 secs away from 8 and 9th with three to go.
But I was at my limit now and stayed at 10 secs for the next two laps. On the bell lap I ended up being the last rider on course who was not lapped and seeing that 8/9th were out of reach I decided that a relaxed "no chance of crash lap" was in order and limped in for 10th.
When I got glimpses of the race at the front, the leaders were mainly riding in a group of five or less and the stronger domestic riders were just getting dropped due to the high pace for on this type of course. It was tough to close gaps as there weren't any overly technical areas where one may have an advantage. Also let's face it,  it's hard to close a gap on someone who is faster than you and just attacked to create the gap.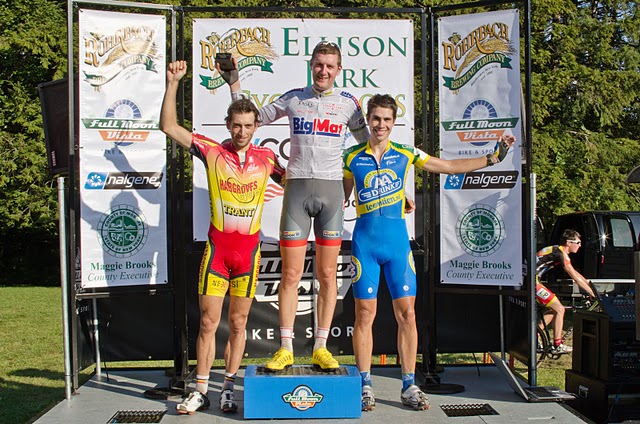 In the women's race Helen Wyman took the lead almost from the gun and steadily opened up her gap. Two members of the Team CF women's team were racing with Carolyn Popovic and battling with Belgium's Joyce Vanderbeken  for 2nd spot all day. Nicole Thiermann came in for 6th and both looked strong on the course all day
On the previous day in early races, Team CF's other husband and wife team of Ally and Neil Armstrong raced the master/open categories. Ally finished sixth on Saturday with some UCI women riders in the Open Women's race. Then she finished a very strong second on the second day, exchanging the lead with Christine Schryver a few times over the six-lap race. Neil Armstrong was the model of consistency finishing sixth both days and was rocking the no-shirt pit crew for Nathan in the Elite men's race – many questioned if it was UCI-legal.
UCI Results
Men
1. Nicolas Bazin (Big-Mat Auber) 93
2. Ian Field (Hargroves Cycles)
3. Tom Van den Bosch (Aa Drink/Leontien.Nl)
4. Justin Lindine (Bikereg.Com/Joe'S Garage)
5. Michael Garrigan (Lapierre Canada)
6. Jeremy Durrin (Northampton Cycling Club)
7. Daniel Chabanov (Connecticut Yankee BC)
8. Cory Burns (Full Moon Vista)
9. Wayne Bray (Embrocation Cycling Journal)
10. Nathan Chown (Team CF)
11. Donny Green (Unattached)
12. Conor O'Brien (EMD Serono-Specialized)
13. Peter Morse (Jetfuel Coffee/Labicicletta)
14. Shawn Adams (Cycle-Smart Elite)
15. Shaun Adamson (Jam Fund/Ncc)
16. Kiernan Orange (Ride With Rendall)
17. Andy Lytwynec (Mvp Health Care Cycling)
18. Peter Hagerty (Team Plan C p/b Stevens)
Women
1. Helen Wyman (Kona Factory Racing)
2. Joyce Vanderbeken (Cycling Vermeeren)
3. Carolyn Popovic (Unattached)
4. Gabriella Day (Renner Custom Clothing)
5. Arley Kemmerer (C3-Athletes Serving Athletes)
6. Nicole Thiemann (Team CF)
7. Rebecca Blatt (Team Kenda Tire p/b Geargrinder)
8. Julie Lafreniere (Stevens Racing p/ The Cyclery)
9. Vicki Thomas (Ottawa.Cx)
10. Rosanne Van Dorn (Team Placid Planet)
11. Sarah Krzysiak (Nycross.Com)
12. Molly Hurford (Signaturecycles/Rockstar Games)