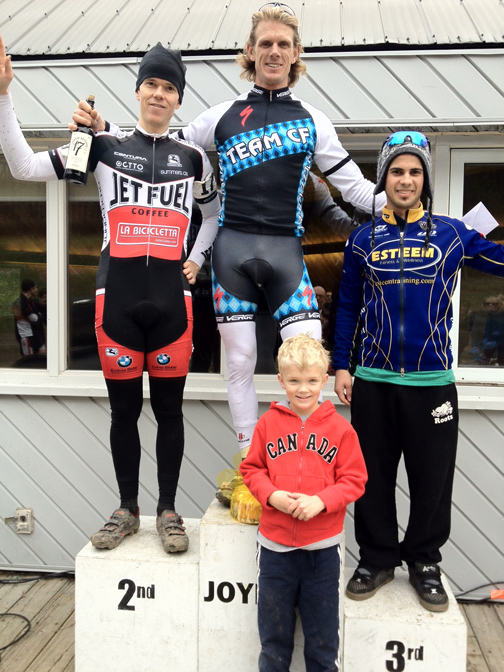 November 16, 2011 (Albion Hills, ON) – We packed up the van on Sunday to hit up the Albion Hills course. The event description looked good and once on the course it did not disappoint. It was one of the better cross courses this year,  a nice  balance of power and technical sections yet with most of the course designed to allow passing and attacking.
Les [Chown] was off first for the 11:30 start, unfortunately the women's field was small (only 3) so the started alongside the M2's to allow for some inter-division competition. Les took 2nd overall behind Julie Marceau and won the master category.  Casey was well positioned through out the course to give mom some cheers such as "go faster" and "that guy is ahead of you". Ah, the logic of youth.
I was next up and thanks to a 15min later starting time I actually got to ride the whole course and knew where it was going. We had 12 elites on the line with local tough guy Peter Mancini looking for the win, in front his supporters' group fan club. Off the gun Mancini took the holeshot and opened up a good 10 sec gap in like 2 mins. I had a fair start and decided that I would wait a lap and try to launch up to Pete.
In the chase group there was Pete Morse, Alex Gibson, Matt Farquharson, Jeff Moote and myself. After lap one, Mancini had 15 secs and I hit it as hard as I could on the power hill and flew down the next section. I think I had a mini gap only to see a big gust of wind blow the course tape into the racing line and perfectly snag my shifter, I have no idea how I kept the rubber side down but I did end up about 10 feet off course riding in knee high bush but got back on course… (attack #1 now has put me 5 secs back of the group I was attacking).
Morse then started putting the pressure on dislodging Jeff and Alex. I regained contact with the smaller group now.  Morse, Matt and I kept a solid pace for a few laps and got Mancini to within 5 secs. I tried again to launch across solo but Morse was hanging tough and only Matt was dropped.
We caught Mancini at the chalet with a huge sigh from the supporters club. With four to go, it was the three of us. Since I was for the most part handling my bike not so good I planned to try to go with three laps left and hope that the two Pete's played a bit of "you pull, no you pull". I hit it hard on a steep pitch and got a gap came up to the barriers with 4 or 5-secs gap and proceeded to jump on my bike post barrier.
The issue was that I felt the need to try to remount on the rear tire and not the seat. (attack #2 again leads to me behind the attacked). I rode off the minor leg burn and with two to go hit it hard again on both climbs and finally got some breathing space and rode clean for the lap. On the last lap I had enough space to focus on not crashing and got the win by a slim margin over Pete Morse. Mancini came in for a solid 3rd.
Overall it was a great course on a perfect day for racing. It was a blast to have 4-6 riders duking  it out over the hour race. The Kona Major jake was once again rock solid and I am now convinced is stiffer than my fancy carbon road bike. I had no rolled tubulars that hit me at nationals but was told by my manager Casey Chown – "Dad, you are not supposed to take your hands off your handlebars". I guess I will have to modify my seldom used victory salute.