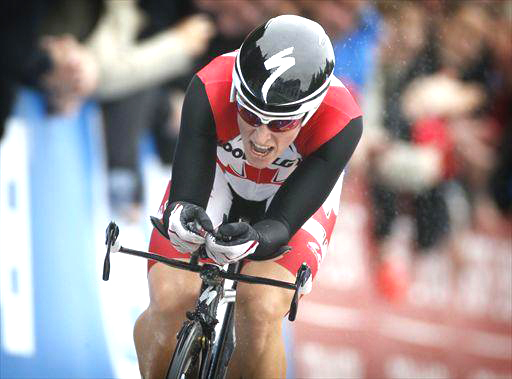 May 01, 2015 (Ottawa, ON) – In seven days, Cycling Canada will take part in North America's biggest stage race for women, the Amgen Tour of California, from May 8-10.
The Canadian National Team will be represented by 2012 Olympian Denise Ramsden, as well as four members of the Women's Team Pursuit program on the track in Stephanie Roorda, Annie Foreman-Mackey, Kirsti Lay, Allison Beveridge. Gabrielle Pilote-Fortin will complete the six-member team.
For the three-day stage race, the team will be led by Craig Griffin, Canada's Track Women Endurance coach.
The women's race will travel through South Lake Tahoe on May 8-9, and conclude in Sacramento on May 10, the same day of the overall start of the men's race.
TARA WHITTEN RETURNS TO COMPETITION WEARING NATIONAL TEAM COLOURS
With her eyes set on the Rio 2016 Olympic Games, Tara Whitten will make a return to competition with the National Team. Whitten took a break from competition to focus on her doctorate studies, enjoying a well-deserved rest period after a gruelling Olympic cycle.
Whitten has had much success in the time trial, winning multiple Canadian Championships titles and finishing fourth at the 2011 UCI Road World Championships in Denmark.
The invitational Individual Time Trial will be disputed on May 15.
TEAM CANADA – 2015 AMGEN TOUR OF CALIFORNIA
Annie FOREMAN-MACKEY
Kirsti LAY
Allison BEVERIDGE
Gabrielle PILOTE-FORTIN
Denise RAMSDEN
Stephanie ROORDA
Tara WHITTEN (Individual Time Trial only)