August 19, 2015 (Astana, Kazakhstan) – The Canadian junior national squad has spent the past two weeks in Alkmaar, Holland, where they trained at the local velodrome. Coach Cameron Jennings worked with the group of nine (3 young women and 6 young men), honing technical skills and getting them to top race form.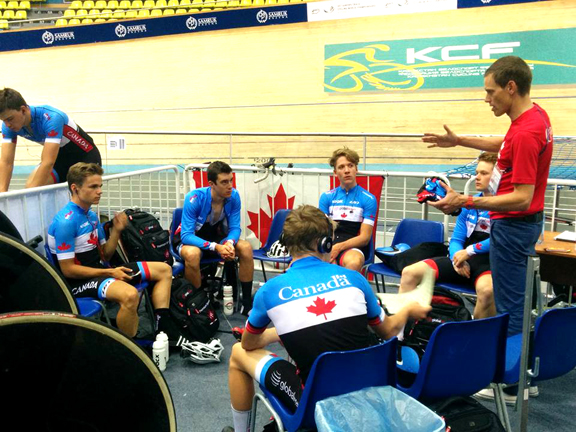 Competition at the 2015 Juniors World Track Cycling Championship began today in Astana, Kazakhstan. First up was qualifying for the men's Team Pursuit. The team has been training extremely well and was looking for a very low teens time. With a couple of engines, this group can fly and just needs to maintain control over the long haul to have success.
They began on a solid schedule, but just two laps in, Evan Burtnik flatted. He managed to pull through for six more laps on a very low tire before pulling off. That left the race to Bayley Simpson, Connor Byway and John Willcox. All three put in an incredibly huge effort to qualify Canada's first junior TP ever to the next round. They will be aiming for a top time and placement tomorrow and a possible bronze medal.
Gillian Ellsay contested the women's points race in the evening session. The race began with a steady pace, but after six laps Gillian launched the first attack.  She took an early point, and then was crashed out approaching corner three.
Always a tough competitor, Gillian rejoined the race and took three more points. The race became more animated with Gillian continually playing to her strengths. With six laps to go, another crash occurred impeding Gillian's progress and she ended up finishing in 10th place. Gillian will ride the Individual Pursuit qualifier on Friday.
Results
Women's Points Race