June 03, 2012 (Philadelphia) – Team Type 1-Sanofi rider Aleksandr Serebryakov won the TD Bank Philadelphia International Championship on Sunday, raising his hands across the finish line first, followed by teammates Aldo Ino Ilesic right behind and Daniele Colli in for fourth.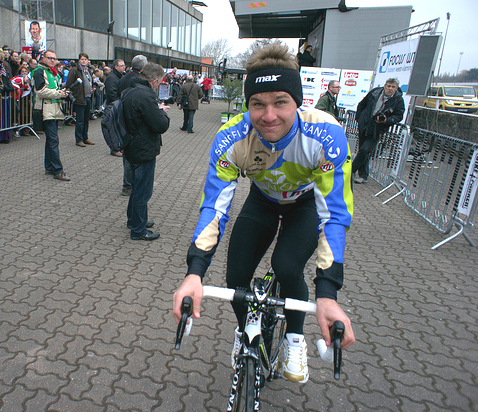 Serebryakov, from Moscow, won the 200km race on a combination of two circuits along the Schuylkill River, up Manayunk Wall and down through Lemon Hill to a finish line just off Logan Square.
"This was my third race in America, and it was a victory on a great American team in a great American city. I can't thank my teammates and the staff enough, everything worked today like clockwork," Serebryakov said.
Ilesic, from Slovenia, lead out Serebryakov on the final lap with almost 500m remaining to the line, and moved away from a leftward drifting peloton to power up the right side of the final section of road.
Team Type 1-Sanofi General Manager Vassili Davidenko said Sunday's results, which included Team Type 1-Sanofi rider Kiel Reijnen winning the King of the Mountain intermediate sprints up Manayunk Avenue, were the result of terrific teamwork.
"On Saturday we talked at the team meeting about the KOM competition, how it was just up there, open, waiting to be claimed. Kiel had great form at the US Nationals last week, and so from the start in Philly today he made sure to write his name on Manayunk Wall every time we came through. When we saw that he had the KOM jersey today all sewn up in the middle of the race, that gave us the confidence to go to the front and chase down a breakaway as a team. Joe Eldridge, Aleksandr Efimkin, Joey Rosskopf and Martijn Verschoor all worked all day to keep those three sprinters fresh for the finish, and the result is a victory in America's biggest one-day race," Davidenko said.
Team Type 1-Sanofi CEo and Founder Phil Southerland praised the victory in a city just days away from the largest annual gathering of international diabetes specialists in the world.
"The 72nd Scientific Sessions of the American Diabetes Association will bring 13,000 endocrinologists, pharmacists, research scientists, diabetes nurses and educators to Philadelphia from June 8 to the 12th, and then send them back home to more than 100 countries with new ideas, technology and hope for people with this disease.
"We are so proud to have brought Team Type 1-Sanofi to the top step of the podium today at the TD Bank Philadelphia International Championship on June 3 to be able to provide definitive proof that diabetes is no obstacle to an extraordinary life," Southerland said.
Alexander Serebryakov Stats
– 1st St4 Five Rings of Moscow, RUS
– 1st St2 Five Rings of Moscow, RUS
– 3rd GP of Moscow, RUS
– 6th Trofeo Franco Balestra-Memorial Metelli, ITA
– 6th St1 Five Rings of Moscow, RUS
– 6th St3 Five Rings of Moscow, RUS
– 7th GC Five Rings of Moscow, RUS
Results
1. Aleksandr Serebryakov (Rus) Team Type 1 – Sanofi 4:32:06
2. Aldo Ino Ilesic (Slo) Team Type 1 – Sanofi
3. Fred Rodriguez (USA) Team Exergy
4. Daniele Colli (Ita) Team Type 1 – Sanofi
5. John Murphy (USA) Kenda – 5 Hour Energy
6. Alexander Candelario (USA) Optum Cycling p/b Kelly Benefit Strategies
7. Jose Fernando Antogna (Arg) Jamis-Sutter Home
8. Robert Förster (Ger) Team UnitedHealthcare
9. Aaron Kemps (Aus) Champion System Pro Cycling Team
10. Luca Damiani (Ita) Kenda – 5 Hour Energy
11. Frank Pipp (USA) Bissell Cycling
12. Andy Jacques-Maynes (USA) Kenda – 5 Hour Energy
13. Eric Young (USA) Bissell Cycling
14. Matthias Friedemann (Ger) Champion System Pro Cycling Team
15. Muhamad Adiq Othman (Mas) Champion System Pro Cycling Team
16. Zachary Bell (Can) Spidertech Powered By C10
17. Tyler Magner (USA) BMC-Hincapie Sportswear Development Cycling Team
18. Cole House (USA) Competitive Cyclist Racing Team
19. Cesar Grajales (Col) Competitive Cyclist Racing Team
20. William Clarke (Aus) Champion System Pro Cycling Team
21. Kyle Wamsley (USA) Jamis-Sutter Home
22. Henrik Abom (Swe) Team Cykelcity.se p/b Pure Energy Cycling-ProAir HFA
23. Thomas Brown (USA) Team Mountain Khakis/SmartStop
24. Alder Martz (USA) BMC-Hincapie Sportswear Development Cycling Team
25. Charles Bradley Huff (USA) Jelly Belly Cycling Team
26. Logan Loader (USA) Team Exergy
27. Clay Murfet (Aus) Team Mountain Khakis/SmartStop
28. Karl Menzies (Aus) Team UnitedHealthcare
29. Adam Myerson (USA) Team Mountain Khakis/SmartStop
30. Carlos Alzate Escobar (Col) Team Exergy
31. Craig Lewis (USA) Champion System Pro Cycling Team
32. Chris Monteleone (USA) Team Mountain Khakis/SmartStop
33. Jesper Hansen (Den) Danish National Team
34. Shawn Milne (USA) Kenda – 5 Hour Energy
35. Tom Zirbel (USA) Optum Cycling p/b Kelly Benefit Strategies
36. Andrew Bajadali (USA) Optum Cycling p/b Kelly Benefit Strategies
37. Christiaan Kriek (Rsa) Jelly Belly Cycling Team
38. Taylor Sheldon (USA) Competitive Cyclist Racing Team
39. Mike Stone (USA) BMC-Hincapie Sportswear Development Cycling Team
40. Ryan Roth (Can) Spidertech Powered By C10
41. Luis Romero Amaran (Cub) Jamis-Sutter Home
42. Boy Van Poppel (Ned) Team UnitedHealthcare
43. Chad Beyer (USA) Competitive Cyclist Racing Team
44. Jeremy Vennell (Nzl) Bissell Cycling
45. Tommy Nankervis (Aus) Competitive Cyclist Racing Team
46. Travis Livermon (USA) Team Mountain Khakis/SmartStop
47. Paul Mach (USA) Kenda – 5 Hour Energy
48. Antoine Matteau (Can) Ekoï.Com – Gaspesien
49. Jordan Brochu (Can) Ekoï.Com – Gaspesien
50. Roman Kilun (USA) Kenda – 5 Hour Energy
51. Francisco Mancebo (Esp) Competitive Cyclist Racing Team
52. Joris Boillat (Sui) Champion System Pro Cycling Team
53. Philip Lindau (Swe) Team Cykelcity.se p/b Pure Energy Cycling-ProAir HFA
54. Joseph Rosskopf (USA) Team Type 1 – Sanofi
55. Andrès Miguel Diaz Corrales (Col) Team Exergy
56. Alexander Hagman (USA) Jelly Belly Cycling Team
57. Flavio De Luna (Mex) Spidertech Powered By C10
58. Benjamin Jacques-Maynes (USA) Bissell Cycling 0:02:03
59. Andrew Dahlheim (USA) Bissell Cycling
60. Thomas Rabou (Ned) Competitive Cyclist Racing Team 0:02:20
61. Marsh Cooper (Can) Optum Cycling p/b Kelly Benefit Strategies
62. Davide Frattini (Ita) Team UnitedHealthcare 0:02:30
63. Luis Enrique Davila (Mex) Jelly Belly Cycling Team 0:02:34
64. Jay Thomson (Rsa) Team UnitedHealthcare 0:02:44
65. James Driscoll (USA) Jamis-Sutter Home
66. Petrus Van Dijk (Ned) Jamis-Sutter Home 0:02:54
67. Clinton Robert Avery (Nzl) Champion System Pro Cycling Team
68. Jesse Anthony (USA) Optum Cycling p/b Kelly Benefit Strategies 0:03:00
69. Philip Mooney (USA) Jamis-Sutter Home
70. Michael Jasinski (USA) Wonderful Pistachios Cycling
71. Edwin Wilson (Swe) Team Cykelcity.se p/b Pure Energy Cycling-ProAir HFA
72. Michael Olsson (Swe) Team Cykelcity.se p/b Pure Energy Cycling-ProAir HFA
73. Anders Christiansen (Den) Danish National Team
74. Jacob Keough (USA) Team UnitedHealthcare
75. Martijn Verschoor (Ned) Team Type 1 – Sanofi
76. Ken Hanson (USA) Optum Cycling p/b Kelly Benefit Strategies
77. Alexander Efimkin (Rus) Team Type 1 – Sanofi
78. Kiel Reijnen (USA) Team Type 1 – Sanofi
79. Michael Smith Larsen (Den) Danish National Team
80. Francois Parisien (Can) Spidertech Powered By C10
81. Neil Bezdek (USA) Team Mountain Khakis/SmartStop
82. David Williams (USA) Competitive Cyclist Racing Team
83. Andrew Baker (USA) Bissell Cycling
84. Michael Chauner (USA) Team Cykelcity.se p/b Pure Energy Cycling-ProAir HFA
85. Mart Ojavee (Est) Champion System Pro Cycling Team
86. Kevin Mullervy (USA) Team Exergy
87. Nic Hamlton (Can) Jelly Belly Cycling Team
88. Martin Gilbert (Can) Spidertech Powered By C10