April 01, 2016 (Milton, ON) – TaG Race Team is in great form as they head to the 2016 Canadian Track Championships. With National Championship jersey's and World Junior qualifying spots on the line, this strong team of four will battle Canada's best at the Mattamy National Cycling Centre in Milton, Ontario, April 1-3.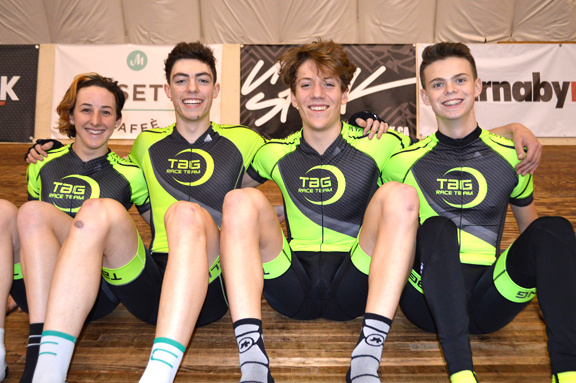 The team will consist of three Juniors, Maggie Coles-Lyster, John Willcox and Cam Fitzmaurice, along with U17 rider Tyler Davies. All four riders are coming off a strong training block at the Burnaby Velodrome.
Maggie Coles-Lyster of Maple Ridge will be attending her third National Track Championships. She is an eight-time National Track Champion including two-time Endurance Omnium and Sprint Champion as a U17 rider. Maggie has transitioned nicely back into track after recently returning from competing at the Cyclocross World Championships in Belgium this past February.
John Willcox of Victoria represented Canada in 2015 at the Track World Championships in Kazakhstan, and will be taking that international racing experience into this year's Canadian Championships. In his last year as a Junior, John is looking to earn a spot on the Canadian team to return to the World Championships, this year to be held in Aigle, Switzerland July 20 to 24.
Cam Fitzmaurice of West Vancouver has quietly been honing his skills on the track and the road and is showing the results of his hard work. The 2014 U17 Canadian Omnium Champion won last weekend's Cat 1,2 Murchie Spring Series race and will be bringing his strong riding to Milton also in hopes of racing for Team Canada in Switzerland.
Tyler Davies of Vancouver will be attending his first National Championship, with all the tools to get him on the podium. This 15-year-old bike racer won his category in the 2015 Burnaby Velodrome Friday Night Racing series and will be looking to challenge himself against Canada's best U17 boys.
Track cycling is in Tyler's genes. His father Neil won Canadian Championships both as a Junior and Senior and participated in the World Junior Track Championships in 1980. His grandfather Jim was a multi time Canadian Sprint and Kilo Champ and competed at both the 1954 British Empire Games and 1956 Olympics.
For more information on TaG Race Team, please visit here.