January 13, 2017 (Penticton, BC) – Swagman announces that three-time Olympian Catharine Pendrel is joining the roster of athletes as a sponsored athlete for the 2017 season. Following a successful 2016 where Catharine won a bronze medal at the mountain bike event at the 2016 Rio Olympic Games after crashing very early on in the race and making a remarkable comeback. Catharine is aiming to conquer another world champion title this year.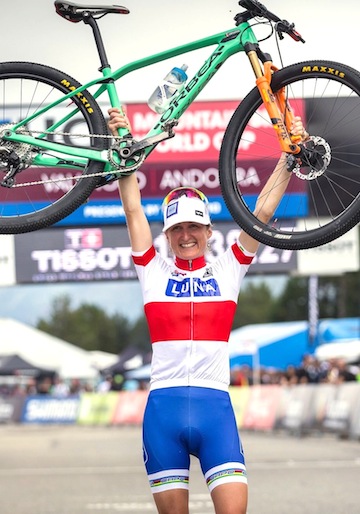 "It's a great honor to have Catharine representing Swagman" said Perry Grago, President of Swagman. "She is a Canadian biking icon and her career is on fire."
Sales Manager Dave Michael adds, "Catharine is relatable to a large core of our audience. She demonstrates commitment and dedication and is a positive role model for so many cyclists and athletes."
Swagman will ensure that Catharine is supported with the right racks to carry her bikes to her training and competitions.
Catharine Pendrel is one of the most consistent women in the world on a mountain bike having stood on 39 World Cup podiums, won the World Cup overall three times, the World Championships twice and represented Canada at the past 3 Olympic Games, claiming Bronze this summer in Rio. At Rio 2016, Pendrel battled back from a crash very early in the race to finish on the podium with the bronze medal. Two weeks after the Games she won her third overall World Cup title.
Read more about Pendrel on the Swagman website here.