August 23, 2011 – Svein Tuft, a former world championship time trial silver medallist, will form part of the GreenEDGE Cycling team in 2012, as it continues its strong recruitment drive in a bid to become the first Australian team in cycling's top division, the UCI World Tour.
The 34-year-old has spent this season riding with the Canadian team, SpiderTech-C10, but after having spent the two previous seasons with the Garmin-Cervelo he is looking forward to the biggest races on the cycling calendar and being part of GreenEDGE Cycling.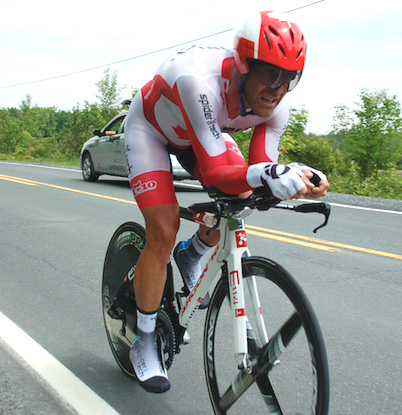 "The thing I'm looking forward to most about being part of a new Australian team is racing the hardest races in the world with a strong crew that I know are capable of winning at the very highest level," said the Canadian, who on Tuesday 23 August soloed to victory in the GP Stad Zottegem in Belgium.
"I really like the energy Australians have for bike racing. They race hard but have a lot of fun doing it. You still need to have a good time racing your bike at the end of the day."
In 2008, when he won silver at the world championships, Tuft also finished seventh in the time trial at the Olympic Games and will make these two events his main targets next year.
"I'll be one of the workhorses on the team but I also have some personal ambitions in shorter stage races that have good time trials in them and, as always, the time trial at the world championships and the 2012 London Olympics are my major objectives," said Tuft.
Having spent several years mountain climbing and going on long bike trips, including a 6,000 kilometre trip to Alaska as a teenager, Tuft was a late comer to the competitive side of the sport, not riding his first race until he was 22-years-of-age.
These early experiences have built the character in Tuft that, in addition to his results on the bike, made him a rider GreenEDGE General Manager, Shayne Bannan, wanted to have on the team. "Svein brings a super hard work ethic to the team, which is an important quality to have, particularly in a new team where we're building the culture from the ground up," Bannan said.
"Plus it's a long season and he has the ability to be consistently strong throughout the year." It will be Tuft's second foray into an Australian team after being part of the ill-fated Pegasus Racing team that folded before the season started. And after the support he was given from his current team, SpiderTech-C10, joining GreenEDGE wasn't an easy decision.
"I owe a lot of thanks to Steve Bauer and Josee Larocque, from SpiderTech-C10, who bailed me out of a tough situation in December and got me a great racing program with a lot of my good friends from Canada," Tuft said.
"Leaving SpiderTech-C10 has been one of the toughest decisions I've had to make in my cycling career as I think what they are doing for Canadian cycling is fantastic. "But I had to make a personal decision to get back to the UCI World Tour where I believe I have plenty more to give."
In 2010 Tuft took out the individual time trial stage of the Tour of Denmark and finished second overall, a race that was won this year by Simon Gerrans, who will also form part of the GreenEDGE Cycling team in 2012. He is also the current Canadian road and time trial champion.