June 08, 2012  (Ottawa, ON) – Cycling Canada Cyclisme is proud to announce the line-up that will represent Canada at the 2012 Tour de Beauce, and Canada will be stacked up with star-power with two riders from the professional World Tour.
The team will be directed by Steve Rover, the 1996 Canadian Road Champion and an organizer of the 2012 COLD-FX Canadian Road Championships, which will be held the following week in Lac Mégantic.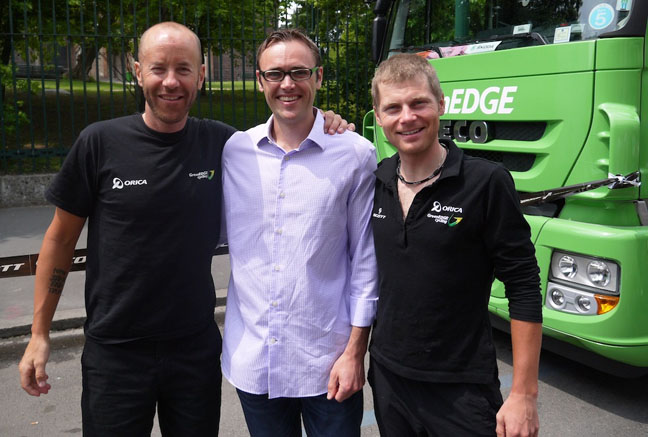 The team includes Svein Tuft, the seven-time Canadian TT Champion, fresh off the Giro d'Italia racing with World Tour team Orica-GreenEDGE, where he finished in the Top 10 of the final stage Time Trial.
"Beauce has always been a special race for us Canadian riders. It's a race that has helped all of us progress to the next level and given us a chance to race at a very high calibre on difficult courses on our home soil. So it seems like a good tradition to be able to come back and race here with the national team where I had my 1st opportunity to experience Beauce in 2001. It was definitely an eye opener for me then and I look forward to racing in this year's edition," said Tuft.
Tuft has had an illustrious professional cycling career, and excels in the Individual Time Trial. In the event, he finished second at the 2008 UCI Road World Championships, and 13th in the time trial at the 2011 UCI Road World Championship in Copenhagen.
At the 2011 IMMUNITY-FX Canadian Road Championships in Ontario, Tuft triumphed in both elite races, winning the titles in both the road race and time trial, competing with Team SpiderTech powered by C10.
In Beauce last season, Tuft won the individual time trial as well as stage 6 to finish in third place of the General Classification.
Tuft will be joined by long-time friend and current teammate Christian Meier, who was also recently racing the Giro d'Italia. Since turning professional in 2008 with World Tour Team Garmin-Slipstream, Meier spent three seasons on the World Tour. Last year at the 2011 IMMUNITY-FX Canadian Road Championships in Burlington, ON, Meier was second in the individual time trial, behind Tuft.
The Canadian team will be complemented by Stuart Wight (CR4C Roanne), Nic Hamilton (Jelly Belly Cycling), Michael Woods (Stevens Racing p/b The Cyclery) and Casey Roth (Ride with Rendall Cycling Team).
The Tour de Beauce starts Tuesday June 12, and runs through Sunday June 17.
Canadian Team – 2012 Tour de Beauce
– Svein Tuft – Langley, BC (Orica-GreenEDGE)
– Christian Meier – Sussex, NB (Orica-GreenEDGE)
– Stuart Wight – Riverview, NB (CR4C Roanne)
– Nic Hamilton – Calgary, AB/Victoria, BC (Jelly Belly Cycling)
– Michael Woods – Ottawa, ON (Stevens Racing p/b The Cyclery)
– Casey Roth – Cambridge, ON (Ride with Rendall Cycling Team)
Directeur sportif: Steve Rover