July 11, 2017 (Oro Station, ON) – The FINAL Entry Deadline for Summer Epic 8 Hour is Wednesday, July 12 at midnight. There is no day-of entry. The Summer Epic 8 Hour presented by Trek Bicycles Stores will take place on Saturday, July 15 at Hardwood Ski and Bike.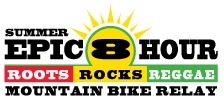 The Epic 8 Hour Relay is all about the camaraderie, sportsmanship and the gritty, hard-core enjoyment of riding with friends. The Epic 8 Hour relay is a personal and team challenge to complete as many 10 km laps as possible from 10 am to 6 pm. Many riders prefer the 8 hour format for a solo challenge, but the majority of riders still enjoy the mix of fun, fast riding and the competitive (or not so competitive), social team atmosphere.
Whether riding just for fun, or vying for a podium spot in your category, the Epic 8 Hour will be a memorable experience!
Get full race info and Enter On-Line here.