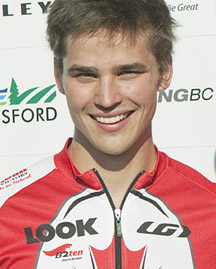 April 07, 2014 (Ottawa, ON) The Canadian BMX team kicked off its 2014 season this past weekend at the BMX Texas US Cup in DeSoto, Texas, USA, and the team fared extremely well with some great results in many categories.
"I am very excited with the progress that the team has made. They had a great power block over the winter, and we went to California to sharpen up our skills," said Ken Cools, Head Coach of the Canadian National BMX team. This weekend was the pre-race for the season ahead as the racing heads on. Now, the training shifts to get race feelings and get crisper on the track and at the gate with a whole bunch of people. This is just the beginning and a great way to start."
"The team has not had any outdoor race sessions this winter," added Ken Cools "The name of the game is to shake off the cobwebs early in the season, and the team did just that this weekend."
On Saturday, Tory Nyhaug of Coquitlam, BC raced to the second place of the Elite Men podium, finishing only behind Sam Willoughby, the 2012 World Champion and 2012 Olympic silver medallist. Nyhaug, ranked in sixth place of the Supercross world rankings, won the bronze medal just last week at the UCI Continental Championships in Chula Vista, marking an excellent start to the campaign ahead.
Still in the Elite men category, James (Jimmy) Brown of Airdrie, AB finished fifth in the Sunday race, an exceptional result as he is just coming off a 10-month rest period without training after a sustaining an injury just prior to the 2013 World Championships.
The Elite women rode well throughout the weekend. Notably, Amelia Walsh of Ayr ON, the reigning Elite Women Canadian Champion, finished eighth on Sunday.
Racing in the junior women category, Drew Mechielsen of Langley, BC rode all the way to the elite finals on Sunday, finishing an excellent fifth place. On Saturday, she made it to the semi-finals. Mechielsen was ranked second overall of the junior women, both days. At the 2013 UCI World Championships, Mechielsen finished in eighth position of the U16 race.
Reigning Boys U15 World Champion Alex Tougas of Pitt Meadows, BC remained undefeated throughout the weekend, easily winning both his races, on Saturday and Sunday.
In a stacked field of the A pro category, Misha Partridge of Port Coquitlam, BC raced all the way to the finals on Sunday. His day ended early after a crashed in the second turn. Despite the crash, Partridge finished seventh of the main.
The 2014 UCI BMX Supercross season starts on April 18 in Manchester, GBR.
Results – BMX USA Super Nationals – Desoto, TX, USA
Saturday April 5
Elite Men (UCI Categories)
1. Sam Willoughby (Aus)
2. Tory Nyhaug (Can)
3. Tanner Sebesta (USA)
Elite Women (UCI Categories)
1. Alise Post (USA)
2. Shanaze Reade (Gbr)
3. Felicia Stancil (USA)
Junior Men (UCI Categories)
1. Mario Lopez (USA)
2. Collin Hudson (USA)
3. Hunter Pelham (USA)
7. Christopher White (Can)
Junior Women (UCI Categories)
1. Shealen Reno (USA)
2. Drew Mechielsen (Can)
3. Jhoanna Hernandez (Mex)
15 Expert Boys
1. Alex Tougas, Yess BMX (Pitt Meadows, BC)
2. Caleb Wall, Mh Factory (Amarillo, TX)
3. Nicolas Deters, Factory Ssquared/Answer (St Peters, MO)
15-16 Girls
1. Kialani Hines, Ppac/Lawman Bikes (Seattle, WA)
2. Drew Mechielsen, Factory Yess (Langley, BC)
3. Shayla Blackmore, Phoenix Box Factory Racing (Durango, CO)
Sunday April 6
Elite Men (UCI Category)
1. Tanner Sebesta (USA)
2. Maris Strombergs (Lat)
3. Riley Stair (USA)
5. James Brown (Can)
12. Tory Nyhaug (Can)
Elite Women (UCI Category)
1. Felicia Stancil (USA)
2. Shanaze Reade (Gbr)
3. Amanda Carr (Tha)
8. Amelia Walsh (Can)
14. Rosemary Adams (Can)
Elite Women – Final Results
1. Felicia Stancil (Gt, Lake Villa, IL)
2. Shanaze Reade (Crewe Cheshire, UK Gbr)
3. Amanda Carr, J&R Bicycles/Supercross, (Punta Gorda, FL)
4. Shealen Reno, Hyper Bicycles (Plano, TX)
5. Drew Mechielsen, Factory Yess (Langley, BC Can)
Junior Men (UCI Category)
1. Hunter Pelham (USA)
2. Christopher White (Can)
3. Collin Hudson (USA)
4. Sean Gaian (USA)
5. Alden Volle (USA)
7. Hayden Mechielsen (Can)
Junior Women (UCI Category)
1. Shealen Reno (USA)
2. Drew Mechielsen (Can)
3. Johanna Huppertz (Ger)
15 Expert Boys
1. Alex Tougas, Yess BMX (Pitt Meadows, BC)
2. Nicolas Deters, Factory Ssquared/Answer (St Peters, MO)
3. Dodge Larry Munson, All Tow (Scurry, TX)
15-16 Girls
1. Kialani Hines, Ppac/Lawman Bikes (Seattle, WA)
2. Drew Mechielsen, Factory Yess (Langley, BC)
3. Jamie Windholz, Factory Ssquared/Answer (Centerview, MO)
A-Pro Category
1. Rusty Nesvig, Haro/Promax (San Diego, CA)
2. Brandon Elmore, Factory Ssquared/Answer (Arlington, TX)
3. Max Egdorf, Answer/Rennen (Greenville, NY)
7. Mischa Partridge (Port Coquitlam, BC)