June 28, 2013 (Scottsdale, AZ) – Stealth Electric Bikes has redefined the ride experience by offering an innovative view into the future. Stealth Electric Bikes has transformed the electric bike with modern engineering and years of technological advancement. Although silent, they have both the freedom and flexibility of a bicycle and the speed and power to get you though the hard stuff. Even under extreme conditions, Stealth Electric Bikes display exceptional torsional rigidity and have just one moving part between the motor and the ground increasing control, reliability and efficiency with virtually no sound emission.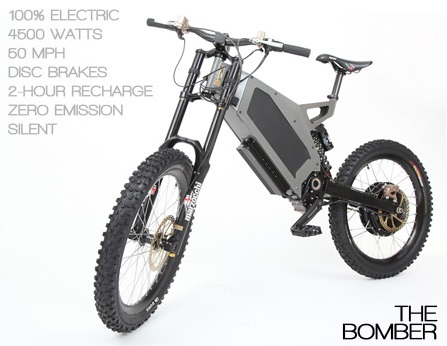 – Aggressive Suspension Systems
– Front Travel Standard : 180mm- 200mm
– Rear Travel -DNM 200mm Fighter/ 250mm Bomber
– Internal Gear Systems 2 speed option Fighter/ Bomber 9 speed sequential gearbox
– Magura Hydraulic Disc Brakes Options
– Battery Type : LiFePO4
– Charging systems for both : Standard 110-240V available
– Optional Powder Coating Choices for bike colors
– Stealth Silent Motor Type : Brushless DC
– Stealth Strong Construction aircraft certified CrMo alloys
– Advanced and Innovative designs
– No emissions
If you haven't experienced a Stealth Electric Bike yet, click here to find a local dealer for a test ride. For more information and specifications, please visit our website www.stealthelectricbikesusa.com or call us at (480) 993-0327.