November 19, 2014 – The fastest women's team on the planet will continue in 2015 under a new name and new title sponsorship, reflecting SRAM's commitment to and passion for women's cycling. The core of riders and team management that secured over 25 major wins in 2014, including the UCI World Team Time Trial and Individual Time Trial Championships, remains. The recently introduced Velocio-SRAM Pro Cycling will host ten riders racing on Cervelo frames equipped with SRAM, Zipp and Quarq componentry. SRAM will become co-title sponsor, the companies first venture into title sponsorship on the road.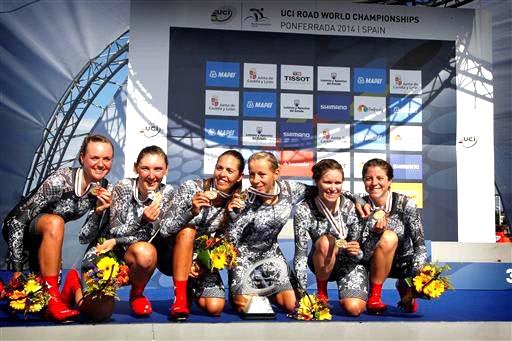 "This team is too good not to support. They focus on winning, specializing in races against the clock, and deliver pure professionalism through it all. It's the perfect formula for us as we continue to drive top level women's racing globally," said SRAM's Global Sponsorship Manager Alex Wassmann.
"It's exciting to see the growth of women's racing, Velocio-SRAM is absolutely one of the best run programs, and we're proud to enhance the level of our support," said SRAM President Stan Day.
"SRAM has been a huge supporter of the team since we started working together three years ago and especially this year in our search for new partnership. We're excited to be growing our collaboration with a great brand that supports women's cycling," stated Kristy Scrymgeour, Team Director.
SRAM RED 22, which remains the world's lightest and fastest drivetrain, will be the team's componentry of choice. With a range of adjustable fit and gearing including Reach Adjust and WiFLi, as well as the largest range of aero shifters, SRAM RED offers meaningful and truly innovative options for every rider.
The team will race on Zipp Firecrest wheels, including the 303, 404 and 808. Designed in the wind tunnel and proven in racing Firecrest wheels feature extreme aerodynamic stability in blustery conditions. Time trials will be won on the unrivaled queen of discs, the Super-9.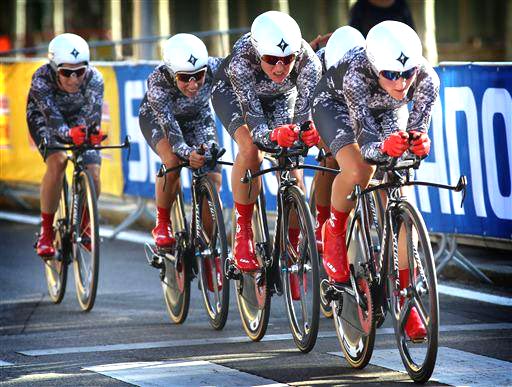 The team will have its choice of Zipp's Service Course SL handlebars, stems and seatposts. Designed through pro rider and fitter feedback, the Service Course SL line delivers a meaningful range of sizes, reaches and shapes. The time trial bars of choice will be the Zipp Vuka systems including the Vuka Stealth, Vuka Bull basebar, Vuka Alumina Clamp and Vuka extensions.
Quarq will feature as the team's power measurement tool with the top of the line Quarq RED 22 model. With 1.5% accuracy, Power Balance™ and OmniCal™ riders are getting a versatile and lightweight package filled with cutting edge technology to amplify their performance.
Team Roster:
– Alena Amialiusik (BLR)
– Lisa Brennauer (GER)
– Karol Ann Canuel (CAN)
– Tiffany Cromwell (AUS)
– Elise Delzenne (FRA)
– Barbara Guirischi (ITA)
– Mieke Kröger (GER)
– Loren Rowney (AUS)
– Tayler Wiles (USA)
– Trixi Worrack (GER)