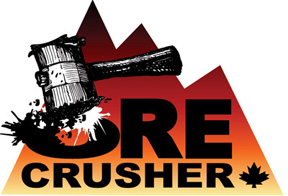 May 14, 2013 (Squamish, B.C.) – The Ore Crusher presented by Republic Bicycles in Brackendale, B.C., was sold out for the first time in its six-year history as 300 riders pre-registered for Saturday's first of the four extremely popular events hosted in Squamish by the Test of Metal Group. Disappointed would-be day-of registrants were turned away, as organizer Armand Hurford explained the singletrack-laden 12.5km loop, of which racers would complete three laps, could only sustain a limited number of riders.
The race heated up immediately due to the lure of a $100 cash prime presented by Red Bench Diner, located only one kilometer up the road from the start. Greg Day (Team Whistler) scored the sprint prize on the men's side, while Jean Ann Berkenpas (Xprezo-Borsao) took home the money in the women's competition. As the pack wound up the sprint, the word "train" passed through the group. Riders at the front had a clear view of a train rolling across the road, but luckily the tail end passed and the Ore Crusher peloton crossed the tracks unhindered, just before the turn-off into the dirt.
Overall winner and local Squamish boy Neal Kindree (Specialized/Corsa Cycles) set a blistering pace and snagged the second $100 prime sponsored by Scott Bicycles at the top of the main climb, with women's champ Sandra Walter (Liv/Giant Canada) securing the cash for herself.
Kindree, who marked his third consecutive Ore Crusher win on Saturday, also set a new course record with a time of 1:49:19. Kris Sneddon (Kona) trailed by 1:34 for second place, while Squamish youngster Quinn Moburg (Team Squamish) took third place in a time of 1:53:23.
Walter successfully defended her 2012 women's Ore Crusher title in a time of 2:05:00. Berkenpas charged across in second place.
The Ore Crusher is not a stereotypical Squamish-style race. It contains minimal elevation gain/loss and consists of laps, whereas the other races in the Test of Metal group of events are large single loops containing painful amounts of climbing and long, technical chunks of downhill.
Ore Crusher, on the other hand, is a constant labyrinth of twisty undulating singletrack laden with a web of roots, but it's not any less painful. At intervals, the trail opens up to a short section of double track, but it quickly leads back into its trademark skinny trails. Riding the Ore Crusher requires constant pedaling and maneuvering the bike through the "smoothest" line. At the finish line, riders commented on how tired their upper bodies were from the constant jarring and pumping.
Elite Men Results HERE
Elite Wimen Results HERE
All Categories HERE