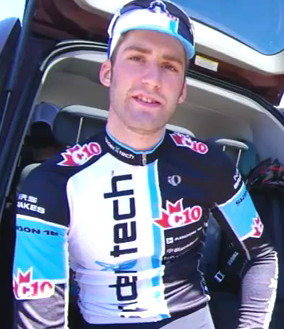 August 24, 2012 (Colorado Springs, Colorado) – Hugo Houle of Team SpiderTech powered by C10 showed he has a mean sprint when he gets the chance, finishing fifth in Stage 5 of the USA Pro Challenge in Colorado Springs Friday.
In a race that has thrown up more than its fair share of surprises in the first four days, for once the race developed as expected. The 189.7-km course started in Breckenridge with a 16-km climb but then tended downhill all the way to the finish, favouring a group sprint.
Like the day before, an early breakaway got away on the opening climb and the 11 riders gained as much as 5:40, but the BMC Racing Team of race leader Tejay Van Garderen worked hard to keep them in check. In wet, windy conditions and with the temperature dipping as low as 11C, the gap was down to just 1:40 as the race hit the final descent from Woodland Park and with 15 km to go just three riders were hanging on to a slender lead.
The stage finished with three, 3.8-km circuits in downtown Colorado Springs – ideal for a field sprint. The break was caught with two laps to go and Tyler Farrar rewarded a strong leadout by his Garmin-Sharp teammates with his second stage win of this year's USA Pro Challenge, while Houle battled through the field to finish fifth.
"I was not in the best position as I fought to take Tyler's wheel, so I had to jump hard from about 350 meters," said Houle. "I was going so fast when I got around two Optum riders in front of me – I was so close!"
Lucas Euser finished safely in the peloton and remains 11th overall, just 17 seconds behind Van Garderen.
On Saturday the riders will cover 166.2 km from Golden to Boulder with three major climbs – including a vicious 6-km ramp to the finish line on Flagstaff Mountain. It will be the last chance for the climbing specialists to gain time before Sunday's time trial, so we can expect plenty of fireworks.
Results
1. Tyler Farrar (USA) Garmin-Sharp 3:58:27
2. Taylor Phinney (USA) BMC Racing Team
3. Alessandro Bazzana (Ita) Team Type 1-Sanofi
4. Alexander Candelario (USA) Team Optum p/b Kelly Benefit Strategies
5. Hugo Houle (Can) Spidertech Powered By C10
6. Mathias Frank (Sui) BMC Racing Team
7. Alex Howes (USA) Garmin-Sharp
8. Andreas Klöden (Ger) RadioShack-Nissan
9. Damiano Caruso (Ita) Liquigas-Cannondale
10. Robigzon Leandro Oyola Oyola (Col) EPM-Une
11. Michael Friedman (USA) Team Optum p/b Kelly Benefit Strategies
12. Martin Velits (Svk) Omega Pharma-Quickstep
13. Matt Brammeier (Irl) Omega Pharma-Quickstep
14. Tejay van Garderen (USA) BMC Racing Team
15. Javier Megias Leal (Esp) Team Type 1-Sanofi
16. Gavin Mannion (USA) Bontrager Livestrong Team
17. Jake Keough (USA) UnitedHealthcare Pro Cycling Team
18. Christopher Baldwin (USA) Bissell Cycling
19. Benjamin King (USA) RadioShack-Nissan
20. Janez Brajkovic (Slo) Astana Pro Team
21. Kiel Reijnen (USA) Team Type 1-Sanofi
22. Christopher Horner (USA) RadioShack-Nissan
23. Pengda Jiao (Chn) Champion System Pro Cycling Team
24. Fred Rodriguez (USA) Team Exergy
25. Matthew Busche (USA) RadioShack-Nissan
26. Francisco Jarley Colorado Hernandez (Col) EPM-Une
27. Thomas Danielson (USA) Garmin-Sharp
28. Cameron Wurf (Aus) Champion System Pro Cycling Team
29. Christian Vande Velde (USA) Garmin-Sharp
30. Ivan Rovny (Rus) RusVelo
31. Tanel Kangert (Est) Astana Pro Team
32. Robert Förster (Ger) UnitedHealthcare Pro Cycling Team
33. Alexander Mironov (Rus) RusVelo
34. Jakob Fuglsang (Den) RadioShack-Nissan
35. George Hincapie (USA) BMC Racing Team
36. Peter Velits (Svk) Omega Pharma-Quickstep
37. Lucas Euser (USA) Spidertech Powered By C10
38. Paolo Longo Borghini (Ita) Liquigas-Cannondale
39. Ramiro Rincon Diaz (Col) EPM-Une
40. Dmitry Kozontchuk (Rus) RusVelo
41. Michael Creed (USA) Team Optum p/b Kelly Benefit Strategies
42. Jorge Camilo Castiblanco Cubides (Col) EPM-Une
43. Levi Leipheimer (USA) Omega Pharma-Quickstep
44. Peter Stetina (USA) Garmin-Sharp
45. George Bennett (Nzl) RadioShack-Nissan
46. Caleb Fairly (USA) Spidertech Powered By C10
47. Sergey Firsanov (Rus) RusVelo
48. Benjamin Day (Aus) UnitedHealthcare Pro Cycling Team
49. Joseph Lloyd Dombrowski (USA) Bontrager Livestrong Team
50. Eduard Alexander Beltran Suarez (Col) EPM-Une
51. Fabio Aru (Ita) Astana Pro Team
52. Andrew Bajadali (USA) Team Optum p/b Kelly Benefit Strategies
53. Michael Schär (Sui) BMC Racing Team
54. Artem Ovechkin (Rus) RusVelo
55. Brian Vandborg (Den) Spidertech Powered By C10
56. Chris Butler (USA) Champion System Pro Cycling Team
57. Javier Eduardo Gomez Pineda (Col) EPM-Une
58. Freddy Orlando Piamonte Rodriguez (Col) EPM-Une
59. James Oram (Nzl) Bontrager Livestrong Team
60. Evgeny Petrov (Rus) Astana Pro Team
61. Rafael Infantino Abreu (Col) EPM-Une
62. Valerio Agnoli (Ita) Liquigas-Cannondale
63. Andres Diaz Corrales (Col) Team Exergy
64. Jens Voigt (Ger) RadioShack-Nissan
65. Ivan Basso (Ita) Liquigas-Cannondale
66. Julian Kyer (USA) Bissell Cycling
67. Gang Xu (Chn) Champion System Pro Cycling Team
68. Carter Jones (USA) Bissell Cycling
69. Karl Menzies (Aus) UnitedHealthcare Pro Cycling Team 00:10
70. Craig Lewis (USA) Champion System Pro Cycling Team 00:14
71. Moreno Moser (Ita) Liquigas-Cannondale
72. Serghei Tvetcov (Mda) Team Exergy 00:26
73. Jeroen Hoorne (Bel) Omega Pharma-Quickstep 00:31
74. Rory Sutherland (Aus) UnitedHealthcare Pro Cycling Team
75. Ryan Eastman (USA) Bontrager Livestrong Team
76. Daniel Summerhill (USA) UnitedHealthcare Pro Cycling Team 00:47
77. Jeffry Louder (USA) UnitedHealthcare Pro Cycling Team 00:49
78. Arkimedes Arguelyes Rodriges (Rus) RusVelo 00:55
79. Roman Kreuziger (Cze) Astana Pro Team 01:04
80. Biao Liu (Chn) Champion System Pro Cycling Team
81. Georg Preidler (Aut) Team Type 1-Sanofi 01:11
82. Julien El Fares (Fra) Team Type 1-Sanofi
83. Sergey Klimov (Rus) RusVelo
84. Frank Kevin Pipp (USA) Bissell Cycling
85. Yevgeniy Nepomnyachshiy (Kaz) Astana Pro Team
86. Jeremy Vennell (Nzl) Bissell Cycling
87. Morgan Schmitt (USA) Team Exergy
88. Joey Rosskopf (USA) Team Type 1-Sanofi
89. Timothy Duggan (USA) Liquigas-Cannondale 01:17
90. Oliver Zaugg (Sui) RadioShack-Nissan
91. Ryan Roth (Can) Spidertech Powered By C10
92. Vincenzo Nibali (Ita) Liquigas-Cannondale
93. Tom Zirbel (USA) Team Optum p/b Kelly Benefit Strategies 01:47
94. Johann Tschopp (Sui) BMC Racing Team
95. Nathan Haas (Aus) Garmin-Sharp 01:49
96. Christopher Jones (USA) UnitedHealthcare Pro Cycling Team 02:05
97. Ivan Santaromita (Ita) BMC Racing Team 02:17
98. Cadel Evans (Aus) BMC Racing Team
99. Ben Jacques-Maynes (USA) Bissell Cycling 03:34
100. Rubens Bertogliati (Sui) Team Type 1-Sanofi 04:21
101. David Zabriskie (USA) Garmin-Sharp 06:29
102. Lachlan David Morton (Aus) Garmin-Sharp
103. Matt Cooke (USA) Team Exergy 11:36
GC after Stage 5
1. Tejay van Garderen (USA) BMC Racing Team 21:32:45
2. Christian Vande Velde (USA) Garmin-Sharp
3. Ivan Rovny (Rus) RusVelo 00:06
4. Levi Leipheimer (USA) Omega Pharma-Quickstep 00:08
5. Janez Brajkovic (Slo) Astana Pro Team 00:12
6. Joseph Lloyd Dombrowski (USA) Bontrager Livestrong Team
7. Ramiro Rincon Diaz (Col) EPM-Une 00:13
8. Thomas Danielson (USA) Garmin-Sharp 00:15
9. Damiano Caruso (Ita) Liquigas-Cannondale 00:17
10. Andreas Klöden (Ger) RadioShack-Nissan
11. Lucas Euser (USA) Spidertech Powered By C10
12. Matthew Busche (USA) RadioShack-Nissan
13. Peter Stetina (USA) Garmin-Sharp
14. Christopher Horner (USA) RadioShack-Nissan 00:22
15. Jakob Fuglsang (Den) RadioShack-Nissan 00:24
16. Gavin Mannion (USA) Bontrager Livestrong Team 00:31
17. Freddy Orlando Piamonte Rodriguez (Col) EPM-Une 00:34
18. Francisco Jarley Colorado Hernandez (Col) EPM-Une 00:42
19. Mathias Frank (Sui) BMC Racing Team 00:43
20. Javier Eduardo Gomez Pineda (Col) EPM-Une 00:54
21. Chris Butler (USA) Champion System Pro Cycling Team 01:00
22. Michael Creed (USA) Team Optum p/b Kelly Benefit Strategies 01:04
23. Christopher Baldwin (USA) Bissell Cycling 02:12
24. Rafael Infantino Abreu (Col) EPM-Une 02:35
25. Timothy Duggan (USA) Liquigas-Cannondale 02:38
26. George Bennett (Nzl) RadioShack-Nissan 02:43
27. Kiel Reijnen (USA) Team Type 1-Sanofi 02:58
28. Dmitry Kozontchuk (Rus) RusVelo
29. Benjamin Day (Aus) UnitedHealthcare Pro Cycling Team 03:35
30. Robigzon Leandro Oyola Oyola (Col) EPM-Une 03:40
31. Cameron Wurf (Aus) Champion System Pro Cycling Team 03:41
32. Eduard Alexander Beltran Suarez (Col) EPM-Une 05:20
33. Vincenzo Nibali (Ita) Liquigas-Cannondale 05:31
34. Andrew Bajadali (USA) Team Optum p/b Kelly Benefit Strategies 05:36
35. Alex Howes (USA) Garmin-Sharp 06:22
36. Johann Tschopp (Sui) BMC Racing Team 07:55
37. Carter Jones (USA) Bissell Cycling 08:10
38. Roman Kreuziger (Cze) Astana Pro Team 08:20
39. Jens Voigt (Ger) RadioShack-Nissan 08:52
40. Michael Friedman (USA) Team Optum p/b Kelly Benefit Strategies 09:35
41. Oliver Zaugg (Sui) RadioShack-Nissan 11:31
42. Craig Lewis (USA) Champion System Pro Cycling Team 11:39
43. Paolo Longo Borghini (Ita) Liquigas-Cannondale 13:58
44. Jorge Camilo Castiblanco Cubides (Col) EPM-Une 14:13
45. Rory Sutherland (Aus) UnitedHealthcare Pro Cycling Team 15:05
46. George Hincapie (USA) BMC Racing Team 15:32
47. Michael Schär (Sui) BMC Racing Team 17:20
48. Alexander Candelario (USA) Team Optum p/b Kelly Benefit Strategies 19:06
49. Julian Kyer (USA) Bissell Cycling 22:10
50. Alexander Mironov (Rus) RusVelo 22:53
51. Peter Velits (Svk) Omega Pharma-Quickstep 23:07
52. Benjamin King (USA) RadioShack-Nissan 23:31
53. Tanel Kangert (Est) Astana Pro Team 23:37
54. Pengda Jiao (Chn) Champion System Pro Cycling Team 24:42
55. Fred Rodriguez (USA) Team Exergy 25:14
56. Tom Zirbel (USA) Team Optum p/b Kelly Benefit Strategies 25:57
57. Serghei Tvetcov (Mda) Team Exergy 26:33
58. Jeffry Louder (USA) UnitedHealthcare Pro Cycling Team 26:37
59. Alessandro Bazzana (Ita) Team Type 1-Sanofi 27:03
60. Christopher Jones (USA) UnitedHealthcare Pro Cycling Team 28:11
61. Caleb Fairly (USA) Spidertech Powered By C10 28:42
62. Moreno Moser (Ita) Liquigas-Cannondale 30:24
63. Ivan Santaromita (Ita) BMC Racing Team 31:25
64. Andres Diaz Corrales (Col) Team Exergy 31:28
65. Sergey Firsanov (Rus) RusVelo 31:37
66. Gang Xu (Chn) Champion System Pro Cycling Team 31:38
67. Martin Velits (Svk) Omega Pharma-Quickstep 33:25
68. Georg Preidler (Aut) Team Type 1-Sanofi 35:31
69. Tyler Farrar (USA) Garmin-Sharp 37:23
70. Javier Megias Leal (Esp) Team Type 1-Sanofi 39:06
71. Artem Ovechkin (Rus) RusVelo 39:19
72. Evgeny Petrov (Rus) Astana Pro Team 41:45
73. Valerio Agnoli (Ita) Liquigas-Cannondale
74. Fabio Aru (Ita) Astana Pro Team 43:54
75. Arkimedes Arguelyes Rodriges (Rus) RusVelo 44:08
76. Ben Jacques-Maynes (USA) Bissell Cycling 44:34
77. Frank Kevin Pipp (USA) Bissell Cycling 45:46
78. Nathan Haas (Aus) Garmin-Sharp 45:56
79. Cadel Evans (Aus) BMC Racing Team 47:13
80. Taylor Phinney (USA) BMC Racing Team 47:34
81. Ivan Basso (Ita) Liquigas-Cannondale 48:25
82. Daniel Summerhill (USA) UnitedHealthcare Pro Cycling Team 48:41
83. Julien El Fares (Fra) Team Type 1-Sanofi 49:14
84. Yevgeniy Nepomnyachshiy (Kaz) Astana Pro Team
85. Joey Rosskopf (USA) Team Type 1-Sanofi
86. Jeroen Hoorne (Bel) Omega Pharma-Quickstep 49:53
87. David Zabriskie (USA) Garmin-Sharp 50:36
88. Jeremy Vennell (Nzl) Bissell Cycling 51:37
89. Jake Keough (USA) UnitedHealthcare Pro Cycling Team 52:01
90. Hugo Houle (Can) Spidertech Powered By C10 52:10
91. Brian Vandborg (Den) Spidertech Powered By C10
92. Ryan Eastman (USA) Bontrager Livestrong Team 52:41
93. Matt Cooke (USA) Team Exergy 53:22
94. Ryan Roth (Can) Spidertech Powered By C10 54:24
95. Rubens Bertogliati (Sui) Team Type 1-Sanofi 55:03
96. Robert Förster (Ger) UnitedHealthcare Pro Cycling Team 55:05
97. Lachlan David Morton (Aus) Garmin-Sharp 55:23
98. Matt Brammeier (Irl) Omega Pharma-Quickstep 56:38
99. James Oram (Nzl) Bontrager Livestrong Team 59:13
100. Karl Menzies (Aus) UnitedHealthcare Pro Cycling Team 59:23
101. Biao Liu (Chn) Champion System Pro Cycling Team 59:39
102. Sergey Klimov (Rus) RusVelo 1:00:24
103. Morgan Schmitt (USA) Team Exergy