August 21, 2012 (Zottegem, Belgium) – Team SpiderTech powered by C10 was on the attack at the GP Stad Zottegem Tuesday but it didn't pay off with a strong result.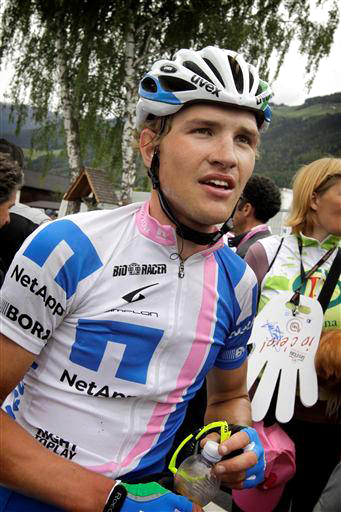 The event, which was first run in 1934, has a special place in Team SpiderTech's short history because it's where Svein Tuft scored the team's first European victory in 2011.
This year's race ended with Matthias Brändle (Team Netapp) and Jean-Pierre Drucker (Accent Jobs-Willems Veranda's) sprinting for the win five seconds ahead of a 91-rider peloton.
Team SpiderTech rider Francois Parisien, who won the Tour of Elk Grove earlier this month and finished fourth in the Tre Valle Varesine in Italy on Saturday, went on the attack in the closing stages of the race but wasn't able to stay away.
Simon Lambert-Lemay was the top SpiderTech finisher in 33rd position.
Team SpiderTech is back in action Wednesday in the 193.1-km Druivenkoers in Overijse, Belgium.
Result
1. Matthias Brandle (Aut) Team Netapp 4:02:51
2. Jean-Pierre Drucker (Lux) Accent Jobs-Willems Veranda's 00:01
3. Wouter Wippert (Ned) Lotto Belisol Team 00:05
4. Jacopo Guarnieri (Ita) Pro Team Astana
5. Egidijus Juodvalkis (Ltu) Landbouwkrediet-Euphony
6. Borut Bozic (Slo) Pro Team Astana
7. Roman Maykin (Rus) Rusvelo
8. Sam Bennett (Irl) An Post-Sean Kelly
9. Steffen Radochla (Ger) Team Nsp-Ghost
10. Mark Mcnally (Gbr) An Post-Sean Kelly
11. Paul Voss (Ger) Endura Racing
12. Frédéric Amorison (Bel) Landbouwkrediet-Euphony
13. Stefan Van Dijk (Ned) Accent Jobs-Willems Veranda's
14. Marcello Pavarin (Ita) Vacansoleil-DCM Pro Cycling Team
15. Valentin Iglinskiy (Kaz) Pro Team Astana
16. Blaz Jarc (Slo) Team Netapp
17. Gijs Van Hoecke (Bel) Topsport Vlaanderen-Mercator
18. Roy Jans (Bel) An Post-Sean Kelly
19. Kenneth Vanbilsen (Bel) An Post-Sean Kelly
20. Sven Jodts (Bel) Topsport Vlaanderen-Mercator
21. James Vanlandschoot (Bel) Accent Jobs-Willems Veranda's
22. Michael Schweizer (Ger) Nutrixxion Abus
23. Frederique Robert (Bel) Lotto Belisol Team
24. Russell Downing (Gbr) Endura Racing
25. Clément Lhotellerie (Fra) Colba-Superano Ham
26. Steven Van Vooren (Bel) Topsport Vlaanderen-Mercator
27. Sean Van De Waeter (Bel) Geofco-Ville D´Alger
28. Thomas Vernaeckt (Bel) Geofco-Ville D´Alger
29. Tom Vermeer (Ned) Nutrixxion Abus
30. Pieter Jacobs (Bel) Topsport Vlaanderen-Mercator
31. Dries Hollanders (Bel) Metec Continental Cyclingteam
32. Gorik Gardeyn (Bel) Champion System Pro Cycling Team
33. Simon Lambert-Lemay (Can) Spidertech powered by C10
34. Luc Hagenaars (Ned) Metec Continental Cyclingteam
35. Kurt Hovelijnck (Bel) Landbouwkrediet-Euphony
36. Jim Van Den Berg (Ned) Koga Cycling Team
37. Alexander Schmitt (Ger) Nutrixxion Abus
38. Joeri Bueken (Bel) Landbouwkrediet-Euphony
39. Gediminas Kaupas (Ltu) Team Differdange-Magic-Sportfood.De
40. Lewis Rigaux (Bel) Colba-Superano Ham
41. Kristoffer Skjerping (Nor) Joker Merida
42. Arthur Vanoverberghe (Bel) Topsport Vlaanderen-Mercator
43. Mehdi Sohrabi (IRI) Lotto Belisol Team
44. Kenny Robert Van Hummel (Ned) Vacansoleil-DCM Pro Cycling Team
45. Sébastien Delfosse (Bel) Landbouwkrediet-Euphony
46. Guillaume Boivin (Can) Spidertech powered by C10
47. Tijmen Eising (Ned) Sunweb-Revor
48. Francois Parisien (Can) Spidertech powered by C10
49. Alexandre Blain (Fra) Endura Racing
50. James Spragg (Gbr) Geofco-Ville D´Alger
51. Cesare Benedetti (Ita) Team Netapp
52. Karel Hnik (Cze) Sunweb-Revor
53. Timothy Vangheel (Bel) Colba-Superano Ham
54. Jim Aernouts (Bel) Sunweb-Revor
55. Benjamin Verraes (Bel) Accent Jobs-Willems Veranda's
56. Joren Segers (Bel) An Post-Sean Kelly
57. Andreas Stauff (Ger) Team Eddy Merckx-Indeland
58. Sergey Renev (Kaz) Pro Team Astana
59. Jonas Schmeiser (Ger) Team Nsp-Ghost
60. Mart Ojavee (Est) Champion System Pro Cycling Team
61. Lars Vierbergen (Ned) Koga Cycling Team
62. Quentin Tanis (Fra) Geofco-Ville D´Alger
63. Holger Burkhardt (Ger) Nutrixxion Abus
64. Andriy Grivko (Ukr) Pro Team Astana
65. Remco Broers (Ned) Team Differdange-Magic-Sportfood.De
66. Daniel Holgaard (Nor) Team Oster Hus-Ridley
67. Sven Van Den Houte (Bel) Colba-Superano Ham
68. Chris Macic (Nzl) Marco Polo Cycling Donckers Koffie
69. Stefan Schäfer (Ger) Team Nsp-Ghost
70. Jack Tanner (Gbr) Geofco-Ville D´Alger
71. Tim Mertens (Bel) Topsport Vlaanderen-Mercator
72. Valery Valynin (Rus) Rusvelo
73. Patrick Bercz (Ger) Team Eddy Merckx-Indeland
74. Julian Hellmann (Ger) Team Eddy Merckx-Indeland
75. Benjamin Sydlik (Ger) Nutrixxion Abus
76. Hendryk Cardoen (Bel) Geofco-Ville D´Alger
77. Kenny Dehaes (Bel) Lotto Belisol Team
78. Jan Kuyckx (Bel) Marco Polo Cycling Donckers Koffie
79. Maarten Neyens (Bel) Lotto Belisol Team
80. Baptiste Planckaert (Bel) Landbouwkrediet-Euphony
81. Johan Coenen (Bel) Team Differdange-Magic-Sportfood.De
82. Joris Boillat (Sui) Champion System Pro Cycling Team
83. Tim De Troyer (Bel) Accent Jobs-Willems Veranda's
84. Antoine Duchesne (Can) Spidertech powered by C10
85. Jonghe Kevin De (Bel) Topsport Vlaanderen-Mercator
86. Koen Barbe (Bel) Landbouwkrediet-Euphony
87. Christer Jensen (Nor) Joker Merida
88. Reidar Bohlin Borgersen (Nor) Joker Merida
89. Sondre Gjerdevik Sörtveit (Nor) Joker Merida
90. Pieter Ghyllebert (Bel) An Post-Sean Kelly
91. Jurgen Francois (Bel) Colba-Superano Ham
92. Ryan Anderson (Can) Spidertech powered by C10
93. Alexander Gottfried (Ger) Nutrixxion Abus
94. Brian Bulgac (Ned) Lotto Belisol Team 00:39
95. Daniel Abraham (Eri) Marco Polo Cycling Donckers Koffie
96. Mat Green (Gbr) Marco Polo Cycling Donckers Koffie
97. Jurrien Bosters (Ned) Metec Continental Cyclingteam
98. Alexander Budaragin (Rus) Rusvelo
99. Staf Scheirlinckx (Bel) Accent Jobs-Willems Veranda's
100. Kieran Hambrook (Nzl) Marco Polo Cycling Donckers Koffie
101. Christer Rake (Nor) Joker Merida
102. Zakkari Dempster (Aus) Endura Racing
103. Ian Bibby (Gbr) Endura Racing
104. Nikita Eskov (Rus) Rusvelo
105. Raymond Kunzli (Sui) Spidertech powered by C10
106. Scott Thwaites (Gbr) Endura Racing
107. Chris Bartlett (Gbr) Marco Polo Cycling Donckers Koffie 00:53
108. René Hooghiemster (Ned) Team Nsp-Ghost
109. Markus Eichler (Ger) Team Netapp
110. Martin Gilbert (Can) Spidertech powered by C10
111. Jelmer Asjes (Ned) Koga Cycling Team
112. Michael Vingerling (Ned) Koga Cycling Team
113. Paul Moerland (Ned) Metec Continental Cyclingteam
114. Adrie Lindeman (Ned) Metec Continental Cyclingteam
115. Wim Botman (Ned) Koga Cycling Team 01:11
116. Kin San Wu (HKg) Champion System Pro Cycling Team 01:13
117. Timo Thömel (Ger) Team Nsp-Ghost 01:20
118. Stijn Devolder (Bel) Vacansoleil-DCM Pro Cycling Team 01:27
119. Andreas Schillinger (Ger) Team Netapp 01:34
120. Peter Konig (Ned) Metec Continental Cyclingteam
121. Francesco Gavazzi (Ita) Pro Team Astana 01:40
122. Willem Wauters (Bel) Vacansoleil-DCM Pro Cycling Team
123. Marco Marcato (Ita) Vacansoleil-DCM Pro Cycling Team
124. Matheus Pronk (Ned) Marco Polo Cycling Donckers Koffie
125. Vegard Breen (Nor) Joker Merida
126. Stian Remme (Nor) Joker Merida
127. Dmitriy Gruzdev (Kaz) Pro Team Astana
128. Niko Eeckhout (Bel) An Post-Sean Kelly
129. Jonathan Patrick Mccarty (USA) Spidertech powered by C10 01:55
130. Jérémy Burton (Bel) Geofco-Ville D´Alger
131. Alex Meenhorst (Nzl) Team Differdange-Magic-Sportfood.De
132. Clinton Robert Avery (Nzl) Champion System Pro Cycling Team 02:36
133. Sebastian Forke (Ger) Team Nsp-Ghost
134. Bert Scheirlinckx (Bel) Geofco-Ville D´Alger 03:02
DNF Yirga Woidemariam Kinfe (Eth) Marco Polo Cycling Donckers Koffie
DNF Emmanuel Van Ruitenbeek (Ned) Koga Cycling Team
DNF Christoph Schweizer (Ger) Nutrixxion Abus
DNF Robin Chaigneau (Ned) Koga Cycling Team
DNF Sander Cordeel (Bel) Lotto Belisol Team
DNF Jurgen Vandewalle (Bel) Lotto Belisol Team
DNF Nikolay Zhurkin (Rus) Rusvelo
DNF Daniel Egeland Jarstø (Nor) Team Oster Hus-Ridley
DNF Mirko Selvaggi (Ita) Vacansoleil-DCM Pro Cycling Team
DNF Thimoty Stevens (Bel) Accent Jobs-Willems Veranda's
DNF Kun Jiang (Chn) Champion System Pro Cycling Team
DNF Leonid Krasnov (Rus) Rusvelo
DNF Leopold Konig (Cze) Team Netapp
DNF André Schulze (Ger) Team Netapp
DNF Dmitriy Muravyev (Kaz) Pro Team Astana
DNF Matthias Bossuyt (Bel) Sunweb-Revor
DNF Vegard Robinson Bugge (Nor) Joker Merida
DNF Sven Forberger (Ger) Team Nsp-Ghost
DNF Vytautas Kaupas (Ltu) Team Differdange-Magic-Sportfood.De
DNF Frank Dressler-Lehnhof (Ger) Team Differdange-Magic-Sportfood.De
DNF René Obst (Ger) Team Nsp-Ghost
DNF Klaas Vantornout (Bel) Sunweb-Revor
DNF Olivier Pardini (Bel) Colba-Superano Ham
DNF James Mowatt (Aus) Colba-Superano Ham
DNF Johim Ariesen (Ned) Koga Cycling Team
DNF Stef Boden (Bel) Sunweb-Revor
DNF Niels Wytinck (Bel) An Post-Sean Kelly
DNF Daniel Westmattelmann (Ger) Team Eddy Merckx-Indeland
DNF Fredrik S Galta (Nor) Team Oster Hus-Ridley
DNF Tormod Hauseken (Nor) Team Oster Hus-Ridley
DNF Sven Erik Bystrøm (Nor) Team Oster Hus-Ridley
DNF Thomas Schneider (Ger) Team Eddy Merckx-Indeland
DNF Vinnie Braet (Bel) Sunweb-Revor
DNF Alexander Wetterhall (Swe) Endura Racing
DNF Kim-Simon Nottebohm (Ger) Team Eddy Merckx-Indeland
DNF Alexander Nordhoff (Ger) Team Eddy Merckx-Indeland
DNF Joey Van Rhee (Ned) Metec Continental Cyclingteam
DNF Jérôme Baugnies (Bel) Team Netapp
DNF Kevin Suarez Martinez (Bel) Colba-Superano Ham
DNS Nikita Novikov (Rus) Vacansoleil-DCM Pro Cycling Team
DNS Sjef De Wilde (Bel) Accent Jobs-Willems Veranda's
DNS Tom Thill (Lux) Team Differdange-Magic-Sportfood.De
DNS César Bihel (Fra) Team Differdange-Magic-Sportfood.De