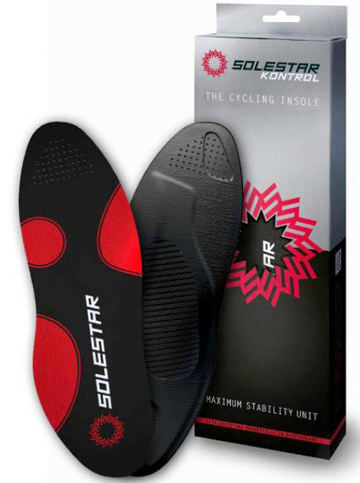 May 22, 2014 (Vancouver, BC) – Solestar Canada is excited to announce the introduction of the Solestar Kontrol cycling insole to the Canadian market. The product features a durable black fibre core that supports the foot in the ideal neutral position and holds it there for optimal power transmission. Different from the Solestar customizable carbon insoles, consumers are now able to select the appropriate size insole in an over-the-counter version based on their shoe size. The Solestar Kontrol insoles provide maximum stability inside the cycling shoe with no further customization required.
"In order to achieve optimal power transmission from foot to pedal and to sustain it over a long period of time without tiring, maximum stability of the foot inside the cycling shoe is top priority," said sports scientist and Solestar cycling insoles inventor Oliver Elsenbach.
Through his years of experience working with the world's top elite riders, Oliver Elsenbach developed the Solestar insoles around an innovative Stabilization-Delta design. They are extremely thin, light and support the foot in the optimal position to create the maximum amount of power throughout the peddling stroke.
Professional cycling's elite, such as Fabian Cancellara, André Greipel, Alban Lakata and many other have put their trust in Oliver's Solestar insoles because of the remarkable difference they make in overall comfort and rider performance.
Solestar Kontrol insoles will be available at select retail location and trough certified Solestar dealers. The Canadian MSRP for Solestar Kontrol is $149.50. For more information, check out here.