October 05, 2012 (Toronto, ON) – At the recent ExpoCycle Show in Toronto, Ben Pye, Marketing – Technical Specialist, Shimano Canada, and Hugh Black of True North Cycles wanted a show-stopper bicycle to display Shimano's latest technology. The Shimano Beer Bike, perhaps conceived over a brew or two, was a resounding hit at ExpoCycle 2012 in Toronto last month, holding its own in an admittedly niche market.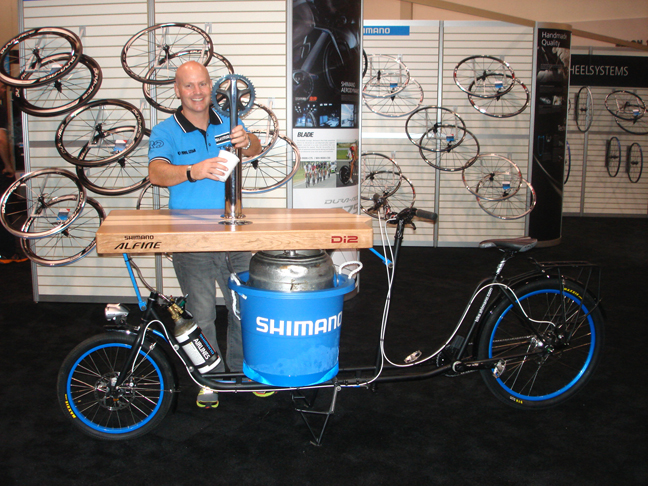 The beer bike features a custom-built steel frame with dual modes of propulsion: pedal power to move this 2-wheeled bar down the street as it provides frothy refreshment to thirsty cyclists; and a CO2 canister to propel suds to the Dura-Ace crank that doubles as the tap handle.  The Shimano Airlines decal on the canister pays tongue-in-cheek homage to Shimano's Skunk Development Team of the 1990s and their short-lived pneumatic shifting system for downhill racers.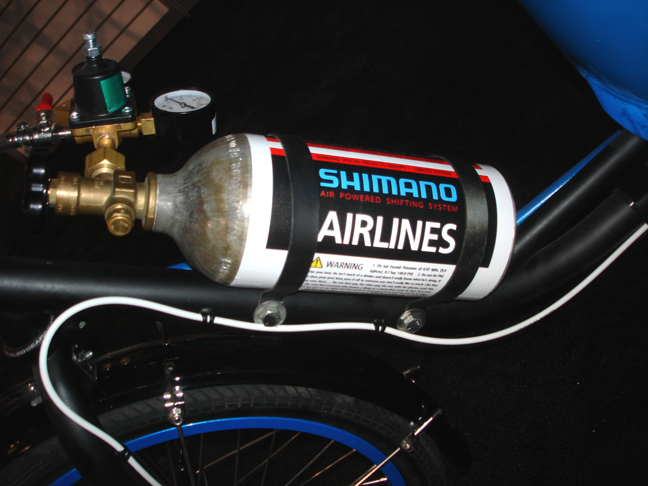 Beer glasses and steins rest on an authentic wood bar built from National Sales Manager Wayne Bleakey's driftwood collection, just one of many innovations featured on the beer bike.  Shifting is handled by Shimano's 11-speed internal Alfine hub activated by Dura-Ace Di2 electronic components , and a Shimano dynamo hub provides the power for lights if the party extends into the wee hours of the night.  Custom built wheels were designed to handle the load, and although sudden stops aren't recommended when full glasses are stacked on the bar, Shimano's latest disc brake technology will be up to the task should things start going downhill fast.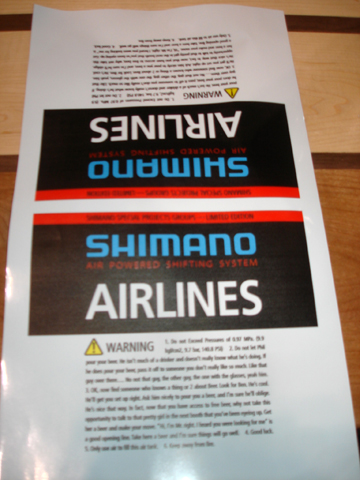 Plush carpeting and large crowds made a full road test difficult within the aisles of ExpoCycle 2012, but a clandestine mini-test of the beer delivery system towards the end of the show convinced your Pedal reporters that the Shimano Beer Bike has a solid future with Canada's Independent Bike Dealers.