April 16, 2014 (Montreal, QC) – SAS Mazda-Macogep p/b Specialized presented its team at a press conference on Monday, April 14 in Montreal. Six of the eight women on the 2014 roster were presented as team president Gerard Penarroya, team VP Michael Desilet, coach David Dulude, and various team sponsors shared their thoughts on the season ahead. The event was emcee'd by popular Randy Ferguson who has presided over numerous events from the Team SpiderTech launch, to the post 2012 London Games celebrations, and he currently also works with Clara Hughes' Big Ride.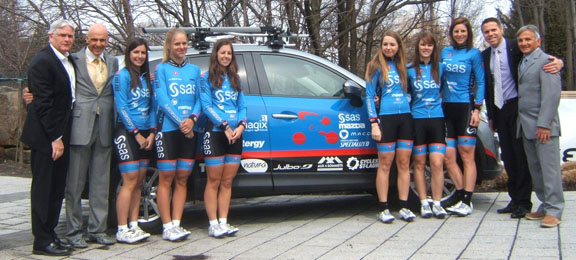 As part of his welcome and opening remarks Ferguson thanked the team's current sponsors mentioning that it is difficult to find financial support for cycling teams in Canada because the sport tends to be marginalized. He  introduced the six riders present, noting that the 2014 roster is completely Canadian. Absent from the conference were team members, Anne-Marie Morin (due to university exams) and Stephanie Roorda (now in Europe).
Penarroya thanked the FQSC for its support and the media present for the publicity they cast on his team. He noted that the team, under various names, has been in existence since 2006. Prominent cyclists such as Clara Hughes, Tara Whitten and Karol-Ann Canuel (Lululemon) have been among its riders over the years.
Desilet took time to mention all of the team's many sponsors, with a spotlight on Specialized which has been a long-standing major sponsor for many years.
Dulude talked about how the team hopes to regain its UCI status in 2015. He also detailed the team calendar in 2014, which starts April 19 with the GP de Contrecoeur. Also on the calendar are the GP de Brossard (May 4) and de St-Raymond (May 25), the Philadelphia Cycling Classic (June 1), the Chrono Gatineau (June 6), the Gatineau GP (June 7), the Mardis Cyclistes (June 3-Aug 12 in weekly stages), Canadian Road Championships (June 26-29), and the Delta Road Race WE (July 6).
With luck, perhaps some SAS Mazda-Macogep p/b Specialized riders will be selected for the Canadian national team to compete at the UCI Road World Championships in Spain this September.
While chatting with Kristi Lay, Pedal learned that she came to Montreal, not only to ride with SAS Mazda-Macogep-p/b Specialized, but also to marry her Quebec boyfriend, Mathieu Giroux. Both she and Giroux have represented Canada in speed skating, which Lay had to give up because of an injury. "Clara Hughes helped get me on to the cycling team," she explained.
The team was previously known as GSD gestion/Kallisto/Specialized p/b MAZDA. Principal partners in 2014 include Specialized, SAS, Mazda, Macogep, Infinit, Jolifilm, Lacasse, Thule, Aux 4 Sommets, Cycles St-Laurent, Julbo, Fruit 2, Natura, Imagix, Finish Line, Ogenitoni, Novatech, Lanctôt, and Le Domaine des Ducs. These companies run the gamut from a bike manufacturer to data analysis, to nutrition, medical imaging, bike clothing, and even a vineyard.
SAS Mazda-Macogep-p/b Specialized  2014 roster:
– Stephanie Roorda, Vancouver
– Kristi Lay, Calgary
– Anne-Marie Morin, Québec
– Roxanne Pépin, Amos
– Adrianne Provost, Repentigny
– Marie-Ève Poisson, Trois Rivières
– Catherine Dessureault, Laval
– Rosalie Cardin, Montreal