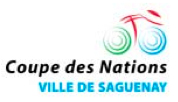 November 10, 2013 (Saguenay, QC) – The UCI Coupe des nations Ville Saguenay U23 road race will not continue in its present format and will be replaced in 2014 by the Grand Prix cycliste de Saguenay according to a report Le Quotidien and confirmed by Cycling Canada's Nicholas Vipond.
The event to be held June 5-8 will be classified as a UCI 2.2 race and join several other Canadian events on the America Tour calendar such as the Tour de Beauce, the White Spot / Delta Road Race both both men and now women, the Tour of Alberta and the GP Gatineau women's race which has moved to June 6-7. The more prominent Grands Prix Cyclistes Québec City and Montréal races are featured on the WorldTour calendar.
Event organizers have undertaken steps so that the 2014 GP cycliste de Saguenay will not be limited to U23 riders (19-22 years) says Bernard Noël of the organizing committee. Among the motivations for this change, Noël cites the lower cost of hosting a GP event which he estimates at $350,000 versus $530,000 for the Coupe des Nations. Much of the difference apparently stems from food and lodging costs. An alliance with Tour de Beauce organizers is also expected to realize some economies of scale. The 2014 Tour de Beauce is scheduled for June 10-15 next year.
The Coupe des nations Ville Saguenay U23 has been held annually since 2008 and was won this year by Sondre Holst Enger (NOR) Plussbank-BMC. No Canadians have ever been on the final podium in any of the six editions of this stage race.
Le Quotidien article (French) here.
Wikipedia (background in English) here.