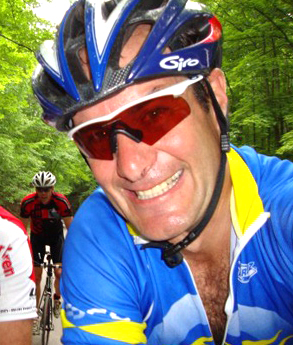 June 01, 2015 (Pemberton, BC) – Two well-known cyclists, Ross Chafe and Kelly Blunden, were killed Sunday during a group ride with the Whistler Cycling Club reports CBC.ca. The two were involved in a fatal collision with a vehicle that also killed a passenger in the vehicle and injured the driver. Both Chafe and Blunden were in their early 50s.
Chafe lived in Whistler, but is originally from Greenfield Park, QC, and was a well-known national team member from 1979-80 and 1983-86 riding at the Commonwealth Games (1986), Pan Am Games (1983), Road Worlds (1979, 1980, 1986) along with many other major events for Canada. He was married with kids and owns Flags Unlimited Corporation and Zola Venture Capital Inc. according to Linked in. Blunden worked in IT for Whistler and his children are young adults reports the Times Colonist.
Indications are that the vehicle may have crossed the median line and struck the two cyclists as they descended a steep hill at high speed. Police also reportedly suspect that the driver was impaired. The incident happened on BC Highway 99 near Pemberton and Mt. Currie, about 60km north of Whistler.
Both men were very active in the club. Chafe helped secure non-profit status for the group while Blunden maintained the club's website; he had also started a beginners' road ride that stressed safety for novice riders.
Pedal joins the cycling community and the Whistler Cycling Club in sending… "condolences to the families and members of the club. It's a tragic reminder that safety is still an issue in our beloved sport."
CBC.ca here.
Times Colonist here.