June 04, 2016 – The cycling community was sad to learn that Canadian cycling legend Jocelyn Lovell, 65, passed away on June 3. The renowned rider had just returned home after being in hospital at the ICU unit for the past 7 months, but the next day he returned to the hospital as he had difficulties from which he did not survive. The loss leaves a gaping hole in Canada's cycling scene.
Considered by many as Canada's first cycling icon, Lovell dominated the Canadian road cycling in the 1970s and early 1980s and was a member of Team Canada from 1968-1983 with 35 national titles to his name. Born in Norwich, England, in 1950 his family moved to Canada in 1954 and he started racing at 13.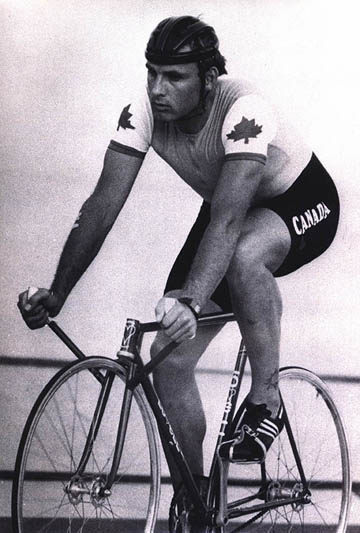 His first major international success came at the Edinburgh Commonwealth Games in 1970 where he won three medals, including gold in the 10-mile scratch race becoming the first Canadian in 32 years to win a cycling gold at those Games.
He was selected to the Canadian Olympic Team three times beginning in 1968 as a teenager with the Games at Mexico City where he finished a respectable seventh in the 1,000m time trial and 26th in the men's road race. Later he won gold at both the 1971 and 1975 Pan-American Games, setting a record for the distance that would stand for 28 years.
His greatest success came at the 1978 Commonwealth Games in Edmonton where he won three gold medals in record times. Later that year in he won a silver medal in the 1,000m time trial at the Track World Championships in Munich, Germany.
Lovell was married to speed skater and competitive cyclist Sylvia Burka in 1981 but they separated and he later married his second wife, Neil. He continued to compete as one of Canada's top-ranked cyclists into the 1980s but a fateful accident with a dump truck while training on August 4, 1983, saw his career came to a tragic end as spinal cord injuries left him a quadriplegic. Later he took a leadership role in advocating research into spinal cord injuries.
Colourful and controversial are the adjectives most often applied to Jocelyn Lovell and in 1975 he received the Norton H. Crow Award, as Canadian male amateur athlete of the year, and in 1985 he was inducted into Canada's Sports Hall of Fame.
In 2014 Lovell was featured in Marinoni: The Fire in the Frame, a movie about legendary frame builder, Giuseppe Marinoni, who built bikes for Lovell as they formed a bond and friendship throughout both of their careers. The two are united in the film for a touching meeting at Lovell's home where they share many memories.
In October 2015 Lovell was among nine Canadian cycling legends that were inducted into the newly established Canadian Cycling Hall of Fame at the Mattamy National Cycling Centre in Milton, Ontario with plaques permanently mounted on its walls.
Lovell could not attend the ceremonies and sent the following statement, "It is an honour indeed to be included in our first Canadian Cycling Hall of Fame. As I look at the list of accomplishments of all these individuals, wow, it's all pretty major stuff. And now a sophisticated velodrome, a Hall of Fame, and a place where, finally, Canadian cycling can hang its hat. Fantastic."
Ironically, the Milton Velodrome stands today near the very spot where Lovell had his fateful accident back in 1983.
His good friend and former coach, Barry Lycett, commented, "R I P Jocelyn, Jos, JL there will never be another YOU."
Lovell is survived by his wife Neil who was at his bedside. There will be no service; just a small family gathering at the Lovell residence.
Pedal joins the cycling community across Canada and around the globe in saluting an amazing career and sending condolences to Lovell's family and friends.