June 19, 2012 – Ryder Hesjedal, after finding out that there are 7 cyclists on the CAN Fund athlete waiting list and having been a CAN Fund recipient early in his career, is donating 50% of the funds raised from the first ever pink jersey won by a Canadian to CAN Fund.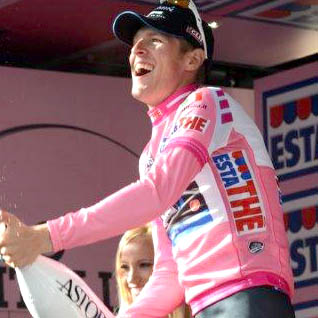 Auction closes on Ebay: Wednesday June 20th at 9:14 am PDT, 12:14 pm EST
Click HERE to make your bid today. Only 1 day left to own this iconic piece of cycling history—champagne stains and all!
Here is your chance to own a piece of Canadian cycling history. The original pink jersey won by Canadian cyclist Ryder Hesjedal in the Giro d'Italia when he first took over the lead – the Maglia Rosa from stage 7, is now up for auction on e-bay. All proceeds raised from the pink jersey will go to the Ryders Cycling Society of Canada.
This not-for-profit was established by Ryder in the fall of 2011 with the goal of providing opportunities to excel in sport and inspire healthy lifestyles for all Canadians. With the London Olympics fast approaching, Ryder recognized the opportunity to help cyclists right away, so half of the money raised will go to CAN Fund to support the cyclists who will be going to London. The more money raised the more athletes we can support!
Make a donation online to CAN Fund to support a Canadian cyclist: www.MyCANFund.com
Ryder quotes:
"I had the opportunity to benefit from the CAN Fund as an Olympic athlete early in my career and it was a big help to me. It's great to now be in a position to help give back."
"Being able to help other Olympic cyclists financially through CAN Fund and the donations from the pink jersey is an opportunity I didn't want to pass up. The goal of my not-for-profit, Ryders Cycling Society of Canada, is to support cyclists and bring awareness to cycling. This is a perfect opportunity to see the donations made today for the pink jersey go directly to benefit cyclists at the Olympics in a few weeks. That's awesome."