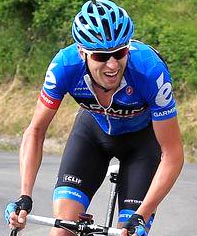 June 10, 2013 (Switzerland) – Ryder Hesjedal crashed during today's stage at the Tour de Suisse, suffering a heavy blow to the neck and head. He was immediately transported to a local hospital for evaluation. Hesjedal suffered multiple, severe contusions and abrasions to the right wrist, hip and knee and left shoulder, elbow and knee. Preliminary CTs show no fractures and no neurological pathologies. He will remain under close observation by team medical staff. Hesjedal's health is the team's priority – depending on how his recovery progresses team medical staff as of now hopes he may be able to train in a few days time, although this will depend on his recovery.
Read our initial report on Hesjedal's crash here.
Pedal joins the cycling community in wishing Ryder a speedy recovery.