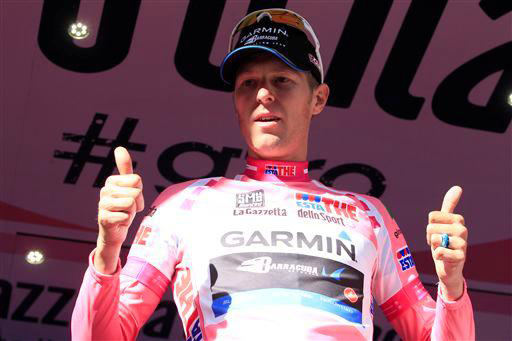 May 21, 2012 (Limone sul Garda, Italy) – At the 2012 Giro d'Italia Ryder Hesjedal immediately proved that he deserved the designation as team Garmin-Barracuda's leader, finishing the opening Time Trial with the top time among GC hopefuls.
Then, on Stage 7 that finished in the small mountain town of Rocca di Cambio, he did what no Canadian had ever done before – he rode into the overall lead and earned the iconic Maglia Rosa, the Giro's leader's jersey – which he held for three days.
On Stage 10 to the historic hill town of Assisi, Hesjedal couldn't stay with Flèche Wallonne winner Joaquim Rodriguez (Esp) Katusha, who won the stage, earning a time bonus and the Maglia Rosa.
Many might have thought that Ryder's days in pink were all in the past, but four days later when the race reached the Alps on Stage 14, Hesjedal attacked the favourites on the final climb to Cervinia and took the Maglia Rosa back.
The following day the battle royale between the Canadian and the Spaniard continued – Rodriguez took second place on Stage 15 and leapfrogged over Hesjedal to wear pink again after 15 stages.
Pedal spoke to Ryder from the beautiful lake town of Limone sul Garda on the Giro's second and well-needed rest day.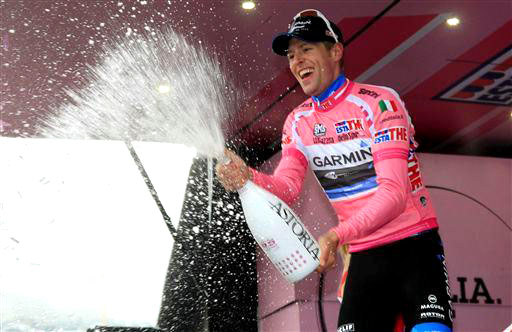 Happy Victoria Day!
Ryder Hesjedal: Oh, yeah!
What a week it's been!
RH: Yeah, it's been two weeks of excitement, that's for sure.
What did you do today and how needed was that rest?
RH: Oh, yeah, it's always needed. The same old thing – sleep in, have a nice breakfast, a little training, have a nice lunch, some interviews, massage – normal.
But it's gotta feel a bit different than usual, you're in second place overall. A little more excitement maybe?
RH: Yeah, I mean I was as pretty excited in 2010 at the second rest at the Tour (note: he was in 10th place at the time) so it's familiar territory. Yeah, it's gonna be a big week coming up. But I'm already extremely pleased with the race to date and we'll just see how the rest of it goes.
It's been going back and forth between you and Joaquim Rodriguez. When he attacked in Stage 10 to Assisi, did you see the Maglia Rosa disappearing and try to go with him?
RH: Well, I was happy with the way I rode there, it was a very hard final. Especially defending the jersey, I knew it was going to be hard – he's the best in the world at that type of finish so I was pretty happy with the amount of time I was able to stay with him but the time bonuses were definitely the deciding factor to lose the Jersey so that's just part of racing.
Then in Stage 14, how difficult was that final climb to Cervinia, particularly considering that you'd climbed the Col de Joux before it, and what was your mindset when you attacked there to get the jersey back?
RH: That day just went by really well. I felt good and really I was surprised a little bit at the way how the race was going and how I felt. Some rider started the move near the end and I figured I'd give my legs a test, too and get the ball rolling, and I was able to stick it and benefit and get the jersey back. So it was a pretty exciting day and yeah, it was a nice start to the "real mountains" as they say, but it seems like we've already climbed quite a few in this race.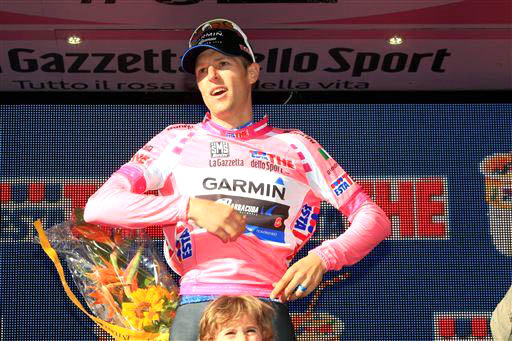 How did the second time earning the Maglia Rosa back feel compared to the first?
RH: It was pretty exciting. I mean, it'll never be the same as pulling it on the first time, but to lose it and get it back was pretty special. And yeah, I feel fortunate that that happened and I could enjoy it again.
When you wear that jersey do you think about the history of the race, the men who have worn it before and the passion of the Italian fans toward cycling?
RH: Yeah, you can't help but feel it! The tifosi are incredible and they love it, so it's pretty exciting to be in it and be part of it.
Has your inbox exploded?
RH: (Laughs) Yeah! Yeah, I think people are pretty excited. Cycling was already on a high level in Canada but I think it's growing even more because of it and it's fun.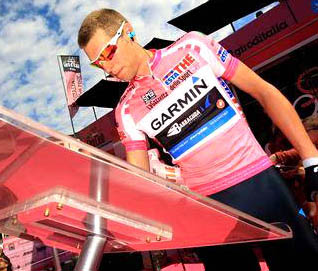 And tell us about what happened yesterday, on Stage 15?
RH: Oh, another tough day at the Giro. The weather was definitely the hard part of the race so you just have to stay focused. Everyone's on edge and stressed about it, it's tough racing. I was happy to get through the day and be where I am for this rest day (2nd place, :30 behind Rodriguez). It was a tough weekend but we got through it.
How exciting is it to be in this mano a mano battle with Joaquim Rodriguez and his team at one of the most prestigious races in the world?
RH: Oh, it's exciting! I mean, the team's been incredible! Every time we've had to do something we've been there and showed ourselves and that's what it's all about. It is a battle!
You've said before that you're at your best in the third week of a Grand Tour. Do you feel that you're still getting stronger for this third week and more confident, given what you've accomplished and how well you're climbing?
RH: Definitely, that's been my mindset all along so I'm hoping it comes true. There's been some energy spent along the way but it was for a good reason and we'll just see how this next week shapes up.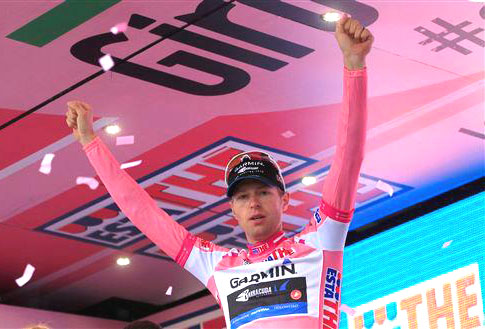 So how does next week shape up? Do you know much about Wednesday's Stage 17, with the Passo Giau as the fourth categorized climb of the day?
RH: Yeah, I haven't really been looking too much ahead. You just focusing on the day in front of you and do your best in that…I think that gets you to the next one. Obviously the third week there are some very decisive days and we'll just have to be there and be ready and that's it.
Are there climbs you've done in the past that you have specific memories from, like the Mortirolo, the Stelvio or Alpe di Pampeago, that you're going to be doing this coming week?
RH: I remember the Mortirolo from 2008. We did the Gavia before that and the Aprica after. So that was a tough day at the end of the Giro and I was able to be up there (note: he finished 17th on the Stage.) That was a big day and it got me through the Giro, and on to the rest of the season, and the Tour. So yeah, that's about it, I don't know the Pampeago that well. I think we did it but it's hard to remember.
And if a podium spot or the final Maglia Rosa comes down to the 31.5 km Time Trial on the final day, are you confident in your time trialing abilities relative to some of the other GC hopefuls, like Rodriguez (note: Hesjedal finished 0:14s ahead of Rodriguez in the opening 8.7k TT) Kreuziger, Basso and Scarponi?
RH: Yeah, I feel good on the time trial bike. I showed that on the first day as well as in the Team Time Trial. I'm definitely not fearing Milan, I'm waiting to get there anxiously and finish it off.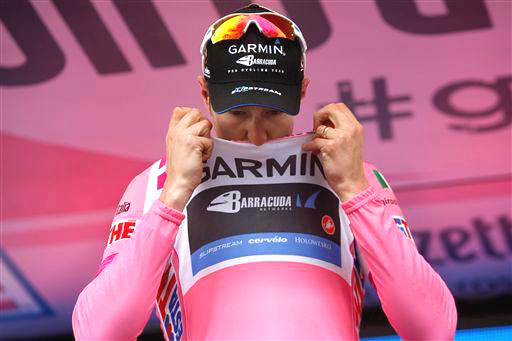 Did you see what Johan Bruyneel said about you?
RH: No, I didn't see it. I saw some sort of mention in a Tweet but I couldn't find the actual story.
It was on one of the Italian networks and I saw the video on the internet. Johan, who of course was your director at US Postal/Discovery Channel when you were just transitioning from mountain bike to the road, calls you a serious candidate to win the Giro, along with Basso, Scarponi, Rodriguez and Pozzovivo. Considering that he directed 13 Grand Tour victories, what does that endorsement mean?
RH: (Laughs.) Well, it's a nice compliment! This is all new ground for me, this position, so I'm just going to continue doing what I've been doing. It's been working and I'll see what happens at the end but no matter what, I'll come out of this race better and move forward with it.
How important is support from back home and do you want to encourage people to keep on messaging you through your website?
RH: Oh yeah! It's more than nice, it goes a long way. It's very encouraging and if people are excited about what I'm doing it's flattering and it's a big motivation for me.
Ok, good luck. Talk to you after the Giro is over!
RH: Alright, thanks Amy!
Less than two weeks ago Ryder Hesjedal became the first Canadian rider to wear the leader's jersey in a Grand Tour since Steve Bauer wore the Yellow Jersey in the 1990 Tour de France. Might the Victoria native be the first Canadian to wear the leader's jersey on the final podium of a Grand Tour? We'll know in less than a week.