September 09, 2016 (Toronto, ON) – Roger M. Kiely, an avid cyclist and a co-founder of Toronto's popular Donut Ride, passed away suddenly on September 8 while at home with his loving wife Tammy by his side.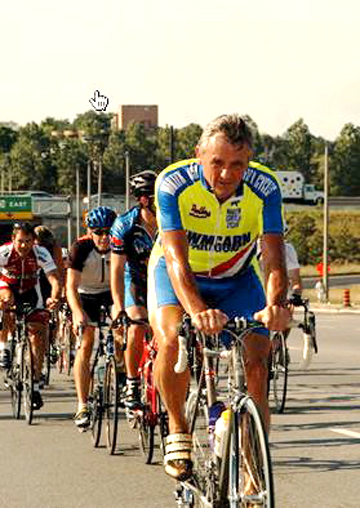 According to the Donut Ride blog  "…it was first organized in 1976 as the team ride of the now-defunct Scarborough Cycling Club, affiliated with The Bike Store (on Shropshire Ave.) in Scarborough, two of the primary organizers being Roger Kiely and Barry Hastings."
Kiely's good friend Fernando Gonçalves told us, "I saw Roger only two Saturdays ago at the Oakridge Bakery on one of our rides. Then I came back from a ride on Thursday and my wife told me that Roger had died. There was no inkling that this was coming. We'd known each other for 40 years."
Gonçalves says that Kiely was probably about 74 years old and in apparently good health except for some hip problems. The cause of death may have been a heart attack.
"Roger introduced a great deal of people to cycling. He worked at a bike shop on Shropshire, raced, trained, and encouraged people. He also spoke his mind on things. I think that the funeral service will be packed!"
The Donut Ride became a tradition and was very popular for many years. "As the ride grew in popularity, it moved to a new starting point more centralized in Toronto, although still somewhat east of the core. It remained associated with The Bike Store for some time. A serious accident in the 1990s (on Keele Street in Maple) led to the group being sued (unsuccessfully), and since then the ride is now completely unofficial.
"Although the ride often took place three-to-four times a week during the summers of the mid-1990s (including an extended 160 km run up to the Holland Marsh — the "Marsh Ride" — on Wednesdays and/or Sundays), it is now primarily a weekend and statutory holiday affair.
"Over the years the ride has hosted many notable Canadian cyclists, including legendary Mike Barry and his son Michael Barry Jr. (racer for United States Postal Services, T-Mobile, Columbia-Highroad, and Sky; now retired from competitive cycling), Jocelyn Lovell and others. Today the ride still hosts many amateur and semi-amateur racers who use it as a "warm-up" session and "to keep in touch with the masses."
There is also a quote posted there from Michael Barry jr: "I was taught how to ride a bike properly on the Donut Ride, the biggest weekend ride in the country."
An obituary is expected in Saturday's Star. Kiely's funeral service will be Sunday, September 11th at the Heritage Funeral Centre, 50 Overlea Blvd. Toronto, M4H 1B6 (416) 423-1000.
Visitations: Sunday 1-3 pm and 6-7 pm, followed by a short service.
If desired, donations to the Ride For Karen would be appreciated by the family. Condolences and memories can be shared through www.heritagefuneralcentre.ca
Pedal joins the cycling community in extending condolences to Kiely's family and friends.