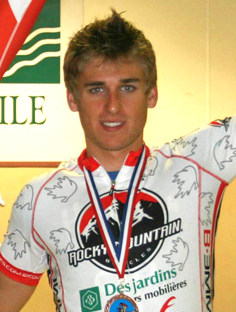 November 12, 2011 (Amos, QC) – Philippe Nadon (Rocky Mountain-Desjardins Valeurs mobilieres), a road cyclist from this northern Quebec town is hanging up his bike to return to school according to the Abitibi Express. The 2010 Canadian Junior Criterium champ made his decision shortly after the dissolution of the Rocky Mountain-Desjardins senior men's road team, headed by coach Jean-Yves Labonté.
We understand that the Rocky Mountain road team was dissolved at the same time as Team Maxxis-Rocky Mountain MTB team (where Geoff Kabush rode) announced it was disbanding. However the junior Rocky Mountain road team will continue next season.
Nadon, 19, who just finished riding his first season as a senior, but his 10th season overall, is in the second year of a police program at a local college. He explains that it was easier to reconcile studies and cycling as a junior rider. Among his accolades, Nadon scored a stage victory at the Tour de l'Abitibi/Coupe des Nations in 2010.
Also pondering their futures are his former team mates Jordan Brochu, Jean-Samuel Deshaies and Pierrick Naud. Naud already has some European races under his belt, riding with the Canadian U23 team in Belgium, France, and in Holland this past season. But so far, only Charles Matte has announced finding another team (Gaspesien) in 2012. Brochu and Charles Matte apparently will be training over the next few weeks in Arizona where they will stay with American coach Barney King.
Three Abitibi cyclists look for teams HERE.
Brochu and Matte training in Arizona HERE.
Nadon returns to school (French) HERE.