November 20, 2016 (Sufferin, NY) – Canada's Maghalie Rochette (CLIF Pro Team) is on fire with confidence and back-to-back wins to prove it as she took the Elite women's race at Supercross Cup Day 2 in Sufferin, NY.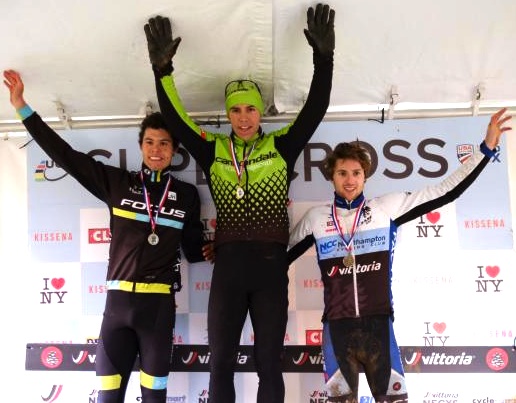 Fellow Canuck Jeremy Martin (Focus CX Canada) delivered a stellar ride as well landing second on the podium in a tight men's race won by Curtis White (USA) Cannondale p/b Cyclocrossworld –
check out our post-CX Nats interview with Martin here.
Natasha Elliott (Can) Garneau – Easton Cycling was 10th as was Derrick St John (Can) Van Dessel p/b Hyperthreads in the men's competition.
Day 2 of Supercross Cup at Rockland Community College in Suffern, N.Y. was cold, windy, snowy, and slick. The off-cambers were far more treacherous than Day 1 having endured rain and snow overnight. The UCI Category 2 (C2) race would come down to another sprint finish for the Elite Men, with Curtis White (Cannondale p/b Cyclocrossworld.com) taking the win over Jeremy Martin (Focus CX Canada) in the final turns. For the Elite Women, Maghalie Rochette (Clif Pro Team) put in dominating performance to solo to victory with an impressive one minute and forty-five second gap over second-place Crystal Anthony (Maxxis-Shimano Pro Cyclocross). Day 2 of Supercross Cup made the sixth day of competition for the Vittoria Northeast Cyclocross Series presented by Cycle-Smart, the only UCI series in the U.S.
Quebec Native Rochette would take her second win of the weekend, controlling the race from the beginning, as she did Saturday. "Cassie Maximenko got the hole shot and I saw she took a line and I could see a little bit of grass on the left of her, so I went in the grass and I was able to create a little gap. I think it bunched up behind me, so I just kept pedaling and opened a little gap," said Rochette. "My only strategy was to keep it clean, trying to keep my momentum along the whole race. It worked out, so it is good. It was challenging, superfun course.
When asked about her upcoming race plans after her successful streak, Rochette noted "I've been kind of going since the beginning of mountain bike season, and that was early March. So I'm taking little break now in the hope of building fitness again and being fresh for Worlds."
Rebecca Fahringer (Amy D Foundation) would repeat with another third place finish. "It ended up being the same podium as yesterday, but it was a much different race. Maghalie was gone from the start, so that was exciting. There was no move, she got the hole shot, kept going and never slowed down. Frankly, I don't know how it happened. She's just mega-fit and has great english in the mud. Crystal, I think, broke a chain or had some sort of a mechanical on the start."
Fahringer commented on the tough course conditions and said "It's days like today that I love running Stan's NoTubes, because under the mud you can't see what's under there, roots, rocks. I felt comfortable just diving into everything. I had fun in the mud, and got third place."
After being out-sprinted yesterday, White was on a mission from the beginning, wasting no time stringing out the field in windy conditions. The win was his sixth of the year on the USA Cycling Pro Cyclo-cross Calendar. As a New York resident, White noted "It was a solid weekend. I love racing in New York. New York always brings out the best in the weather," White laughed. "I was pretty motivated after yesterday. I knew these conditions (wind, cold) suited me well. I felt like I was riding the course really well in the first half. I got a really solid gap, but what worked for the first half of the race didn't work for the second half. The course changed so much. Jeremy (Martin) came up pretty quick. I wanted to save something for the finish, but I let him take the lead a little bit and just watched him take some lines. There were ruts over there in the second half that weren't there the first half. I didn't have the benefit of following other riders (in the first half) and seeing all the lines."
As the course conditions changed, White found himself off the bike more frequently. "I put a lot of work into running. But the two main runups weren't really the deciding factor. It came down to the second to last corner. We both happened to sprint into it as fast as we could, and then dismount, and having to run it. I think it was just whoever led in the last corner."
The Vittoria Northeast Cyclocross Series presented by Cycle-Smart will wrap up in Warwick, R.I. the weekend of December 3rd and 4th at the NBX Gran Prix of 'Cross. Heading into the final weekend of competition, Rochette and White lead the series for the Elite Women and Men.
Results
Elite Women
1. Maghalie Rochette (Can) CLIF Pro Team 0:46:24
2. Crystal Anthony (USA) maxxis-shimano pro cyclocross  1:45
3. Rebecca Fahringer (USA) Amy D Foundation  2:46
4. Jennifer Malik (USA) Women's CX Project  3:00
5. Kathryn Cumming (USA) Jalapeno Cycling  3:05
6. Arley Kemmerer (USA) Fearless Femme Racing  4:05
7. Rebecca Gross (USA) Zero D Racing  4:29
8. Emily Shields (USA) Ken's Bike Shop  5:01
9. Julie Wright (USA) Team Averica  5:31
10. Natasha Elliott (Can) Garneau – Easton Cycling  5:48
11. Turner Ramsay (USA) KMS Cycling – Killington Mounta  6:03
12. Laura Van Gilder (USA) Mellow Mushroom Pizza Bakers  6:05
13. Cassandra Maximenko (USA) Van Dessel/Atom Composites/ISM  6:07
14. Regina Legge (USA) GREEN LINE VELO driven by Zipca  6:48
15. Gray Patton (USA) Freddie Fu Cycling Team  7:53
16. Rachel Rubino (USA) Fearless Femme Racing  8:09
17. Elizabeth White (USA) UVM Cycling  8:24
18. Brittlee Bowman (USA) HOUSE IND/WITHINGS/SIMPLEHUMAN  8:44
19. Avanell Schmitz (USA) Mermaid Winery p/b VA Asset Group  8:50
20. Erin Faccone (USA) Team Averica  9:14
21. Julie van der Hoop (Can) MIT Cycling Team p/b Thoughtfor  9:35
22. Allyson Tufano (USA) Sportif Coaching Group/Patapsco 0:10:32
23. Taylor Kuyk-White (USA) Laser Cats Feline All Stars 0:10:44
24. Joanne Grogan (USA) NEXT-BMB 0:11:01
25. Clio Dinan (USA) KD Collective CX 0:11:05
26. Jauron Vetter (USA) State 9 Racing p/b Vittoria 0:11:15
27. Rebecca Lewandowski (USA) Rare Disease Cycling / Keswick 0:11:24
28. Taryn Mudge (USA) Fearless Femme Racing 0:12:43
29. Natalie Tapias (USA) JAM / NCC 0:12:44
30. Leslie Lupien (USA) Dartmouth College 0:13:28
31. Jenny Wojewoda (USA) HUP United 0:14:21
32. Samantha Brode (USA) VeloFemme p/b Litzler  – 1 Lap
33. Lindsey Bauer (USA) TRT Bicycles
34. Paige Williams (USA) ladies first
35. Sara Melikian (USA) pedalpowertraining.com  – 2 Laps
36. Lydia Hausle (USA) Team Averica
37. Stephanie Makoujy (USA) Tall Sock Racing
38. Rhys May (USA) JAM / NCC
DNS Jena Greaser (USA)
DNS Emily Molden (USA) Nantucket Velo
DNS Shane Ferro (USA) Columbia University Cycling
DNS Katina Walker (USA) Park Ave. Bike Shop
DNF Stacey Barbossa (USA) MidAtlantic Colavita Women's Team
Elite Men
1. Curtis White (USA) Cannondale p/b Cyclocrossworld. 1:07:49
2. Jeremy Martin (Can) Focus CX Canada   0:03
3. Jack Kisseberth (USA) JAM / NCC  0:40
4. Todd Wells (USA) SRAM/TLD/Scott  1:14
5. Cooper Willsey (USA) Furman University Cycling Team  1:19
6. Travis Livermon (USA) maxxis-shimano pro cyclocross  1:35
7. Andrew Juiliano (USA) VOLER/CLIF/HRS/ROCK LOBSTER  4:28
8. Robert Marion (USA) American Classic Pro CX Team  4:33
9. Matt Timmerman (USA) Cannondale p/b CyclocrossWorld  4:35
10. Derrick St. John (Can) Van Dessel p/b Hyperthreads  6:22
11. Scott Smith (USA) JAM / NCC  6:54
12. Daniel Chabanov (USA) HOUSE INDUSTRIES – WITHINGS – SIMPLEHUMAN  7:35
13. Michael Owens (USA) Hands-On Cycling p/b Giant  7:52
14. michael mihalik (USA) Jmac Cycling/Novacare  8:51
15. Adam Myerson (USA) Cycle-Smart  9:54
16. Merwin Davis (USA) Cyclus Sports 0:10:47
17. Max Judelson (USA) Voler/Clif/HRS/Rock Lobster – 2 Laps
18. Mark D'Avino (USA) Cadence Cycling
19. Trent Blackburn (USA) NCC / JAM Fund – 3 Laps
20. Gerald Adasavage (USA) Hudson/Ludwig & Larsen Racing
21. Kyle Murphy (USA) Hudson/Ludwig & Larsen Racing
22. Mike Festa (USA) Philadelphia Ciclismo
23. Matthew Bruno (USA) Team Somerset
24. Tristan Manderfeld (USA) Army West Point Cycling Team
25. Jesse Stauffer (USA) Kelly Benefit Strategies/LSV
26. Jules Goguely (USA) Apex/NBX/Trek
27. Evan Murphy (USA) Hudson/Ludwig & Larsen Racing
28. Keith Garrison (USA) KING KOG  – 4 Laps
29. Matthew Tyler (USA) KD Collective CX
30. David Kessler (USA) RISD Cycling
31. Nick Lando (USA) UVM Cycling
32. Kale Wenczel (USA) Joe's Garage
33. Daniel FitzGibbons (USA) GREEN LINE VELO driven by Zipca
34. Trevor Raab (USA)
35. Derrick Butler (USA) University of Pennsylvania
36. Tim Willis (USA) KING KOG
37. Abe Goorskey (USA) American Classic Pro CX Team
38. Aaron Oakes (USA) Wenzel Coaching
39. Jayson Jacobs (USA) BREISMEISTER FACTORY RACING
40. Chris Niesen (USA) NCC / JAM
41. Preston Buehrer (USA) B2C2 p/b Boloco
42. Sam Dries (USA) No. 22 CX TEAM  – 5 Laps
43. Eric Carlson (USA) Team Edge
44. Colin Tanner (USA) Breismeister Factory Racing
45. Kenneth Englert (USA) Army West Point Cycling Team
DNS Matt Clements (USA) Bike Doctor Frederick
DNS John Kniesly (USA) KING KOG BROOKLYN
DNS Michael Margarite (USA) CRCA/The Weather Channel Giant
DNS Samuel O'Keefe (USA) HOUSE INDUSTRIES – WITHINGS – SIMPLEHUMAN
DNS Adam St. Germain (USA) Apex / NBX / Trek Pro Cycling
DNS Daniel Timmerman (USA) Stan's NoTubes Elite CX
DNS Kailin Waterman (USA) Voler/Clif/HRS/Rocklobster
DNS Kerry Werner (USA) Kona Factory CX Team
DNF Alec Donahue (USA) JAM / NCC
DNF Cesar Gallego (USA) King Kog