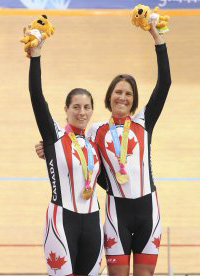 November 22, 2011 (Guadalajara, Mexico) – The two top-performing Canadian athletes at the Guadalajara Parapan American Games – cyclists Robbi Weldon (Thunder Bay, ON) and Lyne Bessette (Knowlton, QC) have been named Canada's flag bearers for the closing ceremony tonight.
The dominant duo won gold in all four races for women's tandem cycling at these Games, with Bessette acting as pilot for Weldon, who has a visual impairment.
Both athletes have exceptional athletic resumes, with Weldon having competed in cross country skiing at the Vancouver 2010 Paralympic Winter Games and Bessette a two-time Olympian in cycling. The announcement was made in the Paralympic Village today by Canadian team Chef de Mission, Rob Needham.
"I'm very honoured," said Weldon. "It's been a very successful week for all Canadian athletes and it will be a great celebration at the closing ceremony tonight."
"I've raced cycling for many years and so far these have been the greatest Games I've participated in," said Bessette. "To top it off with being flag bearer is an awesome thing. Robbi and I are really excited."
Selection criteria for the closing ceremony flag bearer require the athlete(s) to have achieved an outstanding competitive performance in the current Parapan American Games, to have maintained an exemplary standard of behavior, to have exhibited a commitment to fair play and to have earned the respect of their peers.
The Canadian team has enjoyed great success at the 2011 Parapan American Games in Guadalajara, winning 63 medals, including 13 gold, 22 silver and 28 bronze.
Standout performances for the Canadian team included swimmers Adam Rahier (Nanaimo, BC) with one gold and two silver; Kirstie Kasko (Okotoks AB) with two gold; cyclists Daniel Chalifour (Lac-des-Écorces, QC) and pilot Ed Veal (Queensville, ON), with one gold, one silver and two bronze; a gold for boccia athlete Paul Gauthier (Vancouver, BC); a gold and a silver for table tennis player Ian Kent (Eastern Passage, NS); and the archery team winning both gold (Kevin Evans, Jaffray, BC) and silver (Robert Hudson, Leoville, QC).
A complete list of Canadian medallists is HERE.
"These Games were both a development opportunity for younger athletes, as well as a qualifier for the London 2012 Paralympic Summer Games in certain sports," noted David Legg, president of the Canadian Paralympic Committee. "Canadian athletes gained valuable experience en route to future Games including the Toronto 2015 Parapan American Games and the Rio 2016 Paralympic Summer Games. I would also like to congratulate the men's and women's wheelchair basketball teams for their medal-winning performances here, which qualified them for the London 2012 Paralympic Games."
On stage to receive the official flag handover at the closing ceremony tonight will be the the Honourable Bal Gosal, Minister of State (Sport) and the Honourable David C. Onley, Ontario's Lieutenant Governor.
"I will be standing proud with all Canadians this evening at the Closing Ceremony of the 2011 Parapan American Games," said the Honourable Bal Gosal, Minister of State (Sport). "The handover of the Parapan American flag to Canada as the next host of the Games in 2015 in Toronto will be both a reminder of these amazing games and an opportunity for us to invite the Americas and the world to come to Canada for the V Parapan American Games."
The Canadian Paralympic Committee is now looking forward with great anticipation to the next edition of the Parapan American Games, to be held in Toronto Aug. 7 to 14, 2015. Representatives of TO2015 have been onsite in Guadalajara, observing the 2011 Games here in order to take home best practices to ensure an exceptional Parapan event in Toronto in 2015.
"Ontario is proud to be the host region of the next Pan and Parapan Am Games," said the Honourable David C. Onley, Ontario's Lieutenant Governor. "I know Ontario looks forward to welcoming athletes, officials and visitors from the Americas Paralympic committees to Toronto in 2015 and showcasing our province on an international stage."
"The Pan/Parapan Am Games are infused with sport and culture," said Ian Troop, CEO of the Toronto 2015 Pan/Parapan American Games Organizing Committee. "We look forward to welcoming athletes and spectators from the Americas to Toronto in 2015 to compete and help us celebrate these Games."