April 22, 2016 (Rio de Janeiro, Brazil) – At least two are dead following the collapse of an elevated bike path in Rio de Janeiro on Thursday reports CBC. The brand new ciclovio Tim Maia is not part of the Olympic infrastructure, but it parallels Niemeyer Avenue which is part of the 2016 Olympic Games road race course. A 50m section of the bike path collapsed into the sea – possibly after being hit by a rogue wave – sweeping joggers and cyclists out to sea.
Apart from the two reported killed, two other people were apparently rescued by helicopters. A third person is reported missing. The 4km bike path is now closed.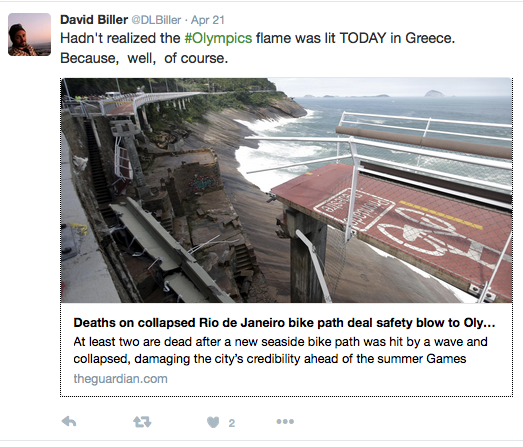 The Tim Maia is perched high above the Atlantic on concrete and metal pillars. The 45 million Brazilian real ($16.1 million CDN) project was opened in January and initially heralded as one of the most successful Rio 2016 legacy projects; it has spectacular views. But there were soon complaints that the structure was already showing signs of deterioration; also the narrowness of the path apparently made cyclists easy prey for muggers.
An investigation is underway to determine the cause of the collapse, but poor construction and graft are rampant in Brazil. Officials now promise extra scrutiny for an extension of the bike path westward to the Barra da Tijuca neighbourhood that is a major centre for Olympic venues, including the Olympic Velodrome.
The news these days out of Brazil is not good; we earlier reported that the Olympic track cycling test event had to be cancelled because of delays with the velodrome construction – read more here.
There have been delays and cost overruns with other Olympic and related infrastructure. All this is set in a context of severe austerity with organizers trying to find where to cut about $500 million USD to balance the operating budget of 7.4 billion reals ($1.85 billion) reports AP. Brazil is spending about $10 billion in public and private money to organize the Games, including capital costs.
While these daunting challenges are facing the country, Brazil also seems headed into a political crisis as well. President Dilma Rousseff will attend a United Nations event in New York City on Friday to denounce attempts to impeach her, a process that could see her forced from office within weeks. She hopes to rally international support against the impeachment.
CBC on Bike path collapse: here.
Reuters on Rousseff in NYC: here.