November 18, 2013 (Nepean, ON) – The Hammer and Anvil is back for a 5th consecutive year to close out the Ontario Cross Season on November 24-25. This year Sunday's Anvil will be the final in the Ontario Cup series as well- counting for precious double points. With just two points separating series leader Nathan Chown from young international standout Peter Disera, this year's battle for the Elite Men's Ontario Cup will go down to the wire. On the women's side Antje Tham has a wider lead but will still need to attend if she hopes to wrap up the title.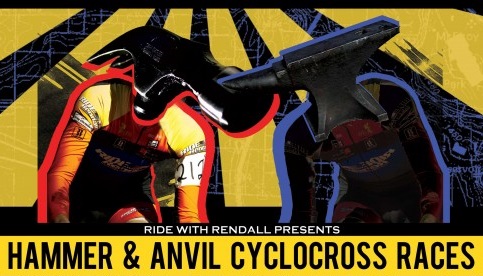 These riders will face some stiff challenges from Ottawa's own cyclocross community- including 3-time Canadian U23 Champion Evan McNeely (Norco), last year's World U23 championships representative Conor O'Brien (Stevens) and the ever-green veterans Osmond Bakker (Octto) and Derrick St. John (Stevens). Also in attendance will be World Cup mountain bike riders Andrew Watson (Norco) and Derek Zandstra (3Rox Racing-Scott)
On the women's side Provincial Champion and RwR rider Julie Lafreniere has travelled less this season than last (which included a trip to the World Championships), but has been impressive when she has raced. Also a contender is Ottawa native Emily Flynn, who medaled at the recent Ontario provincials and Norco's Hailey Smith.
While the Nepean Equestrian Centre will again host the event, this year's course will see some notable changes, including a new start location that will allow for the race to stage inside a barn in case of inclement weather. What will be the same however is the same fast twisty, technical yet flowing style of race course that the event is known for. Inside the barn that will start the race will also be a new expo area. Already confirmed are Norco, 3Rox Racing, and several local retailers such as the Cyclery and event sponsor Greg Christie's. Be sure to check out the ErgVideo Tent and have a peek at their innovative training software- just in time for winter!
Prior to Sunday's bike race the Anvil on Foot will take place. This is a cross country running race that will see contestants tackle the cyclocross course. This year's race is made possible by Sprott Asset Management LP.
As always both days will feature hot food available onsite, and out of province riders are welcome to come and contest for the money and prizes!
REGISTRATION
You can preregister online or register the day of the races at the Nepean National Equestrian Park.
Online registration for all races closes on Thursday, November 21, 2013 at midnight.
Day of registration will open at 8am and you will be able to register up until 1 hour before your race start.
Riders who have preregistered must still sign in at the registration table each day of the race no later than 1 hour before their race start, 30mins before their race start on Sunday IF they raced on Saturday and already have their race numbers.
ENTRY FEES
U13 & U15 Pre-registration
• $25 The Hammer and the Anvil O-Cup (Nov 23-24)
• $15 The Hammer (Nov 23)
• $15 The Anvil )-Cup (Nov 24)
*Day of registration will be $20 each race
All other categories Pre-registration
• $55 The Hammer and the Anvil O-Cup (Nov 23-24)
• $35 The Hammer (Sat. Nov 23)
• $35 Anvil )-Cup (Sun Nov 24)
*Day of registration will be $40 each race
OCA One-Event Racing License will be required for unlicensed riders ($8).
For more details, see the Technical Guide here.