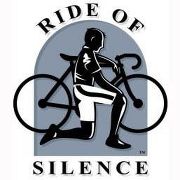 May 15, 2015 (Montreal, QC) – There will be some three dozen Ride of Silence events ("Tour du Silence" in French) held at various locations across Canada on May 20, but most of these are in Quebec which is hosting 25 rides. According to the Quebec Cycling Federation (FQSC) this initiative is to commemorate the deaths of cyclists on the roads and encourage a greater active awareness about bicycling safety issues.
Specifically, the rides are designed to: encourage responsible riding by cyclists; encourage the use of bike helmets (mandatory on the Tour du Silence); sharing the road and promoting mutual respect; and how motorists can safely pass cyclists.
Through these simultaneous rides, all of Quebec mobilizes and underlines that cyclists have the right ride on roadways (except major highways), that they are vulnerable, and they should respect the Highway Code. In Quebec, the Tour du Silence is sponsored by the SAAQ (Société de l'assurance automobile du Québec).

The first Ride of Silence was organized in Dallas, Texas in 2003 and, to date, rides have been held at hundreds of locations worldwide and on every continent  (including Antarctica) reports Wikipedia. The FQSC's initiative in Quebec is apparently among the largest worldwide.
It is free for participants to join their local Ride for Silence, but as noted, a bike helmet is mandatory. Participants are also requested to turn up at least 30 minutes prior to the 6:30PM departure and sign a release for insurance coverage. The locations of the 25 rides in Quebec are listed at the website below (see "localiser un tour").
Outside of Quebec, there will also be rides in such places as Belleville (ON); Charlottetown (PEI); Hubbards (NS); Niagara Falls (ON); Oshawa (ON); Ottawa (ON); Ridgetown (ON), Sidney (NS); and Toronto (ON). The Charlottetown ride is also billed as "a chance to show respect for those who have been killed or injured" (while bicycling). Pedal believes that the format will be quite similar wherever the rides are held in Canada, but local start times might vary.
Quebec Tour de Silence locations (French) here.
Canadian Ride of Silence locations (English) here.