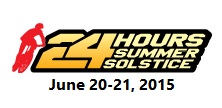 November 11, 2014 – Chico Racing is excited to announce registration for North America's Largest 24 hour mountain bike festival is open! Campsites are allocated on a first registered, first served basis. We are excited to host one of Canada's most fun mountain bike weekends.
Register here for the 24 Hours Summer Solstice, June 20-21.
For the Opus Epic 8 Hour, May 9 click here.
For more information on these events please visit www.chicoracing.com .
Registration Issues:
If you have problems registering please contact CCN Events page here.  They handle all online registrations and support.
Two Ways to Register:
a) Pay in full.
b) Pay for your team manager's spot (and more), but invite riders to pay themselves individually. All teams must have their participants full and paid by early May.
Why register early?
Earliest registered teams get first shot at premium or your preferred campsites.
Serviced sites will only show as available to the first 50 teams registered. These sell out early usually on the first day.
Serviced Sites
$60 plus HST ($30 for tag teams) if these are no longer offered as an add-on it is because they have been sold out (usually in the first day of registration).