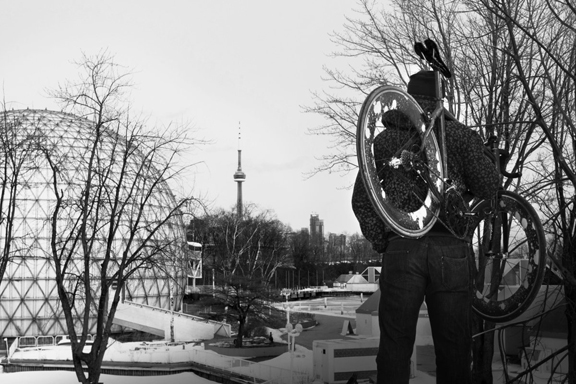 April 08, 2014 (Toronto, ON) – Someone is cutting the locks off at Ontario Place.  On April 19th, Red Bull Race the Place will take over Toronto's iconic island for the first-ever urban cycling race at the site.  This is not the kind of amusement ride you remember as a kid; racers will take on a speed-soaked chase through the island's industrial jungle full of hairpin turns, pedal heavy straight-aways and other urban obstacles.  This will be the first time anyone has accessed Ontario Place since closing its doors to the public in 2011.
From its modest start with messengers, to its less-than-legal rise on city streets, urban cycle racing has sparked a global movement and Toronto being home to a thriving bike scene all its own.  The race will challenge riders ranging from hardened couriers to weekend warriors on a closed track in either fixed gear or open gear bike classes.
Registration is open to the public here.
The Track
Taking cues from legendary city scrambles and crit races like the Red Hook Crit Race in New York City, Red Bull Race the Place will take racers on multiple laps of a 3.7km long track around Ontario Place.  The track is a fast, technical circuit featuring tight corners, bridges, narrowing lanes that will force racers to jockey for position and flat out straight-aways that will for sure leave legs burning.  To spice things up, racers will navigate a few obstacles that might be found on city streets, adding a new dimension of challenge.
The Format
Full details and race schedule can be found  here.  Regulations, rules and bike specs can be found here.  Cyclists can pick one of two categories to enter (fixed or open gear). Time trials will first challenge competitors to race single laps of the track; the fastest 40 cyclists from the fixed gear category along with the fastest 40 cyclists from the open gear category will proceed to the mass start final.  First across the finish line wins.
Toronto, City Cycle
Unknown to most, urban bike racing was born and bred right here in Toronto.  While many defer to other global culture centers like Brooklyn or London, it was Toronto that cradled the movement. A long and storied history dating back to the mid-80's features Toronto playing host to some of the most significant underground cycling events that have come to define the culture with iconic events such as The Human Powered Roller Coaster.  Fast-forward to today, and Toronto continues to be at the forefront of bike culture and is the perfect backdrop for the brief opening of Toronto's iconic Ontario Place.
Registration
Open to all participants, registration is available at the event on a first come first serve basis.  Space is limited to 100 participants in each bike category (fixed or open).  Registration is available here.
Media Ride
Want to feel the wind in your hair?  Join us for a test ride on the track on April 19th from 1:30pm-2:30pm.  Bikes will be supplied.  Please submit your request directly to the below contact.
Social Guide
Twitter: @RedBullTO
Instagram: @RedBullCanada
Event Page here
Official Hashtag: #RaceThePlace #Toronto