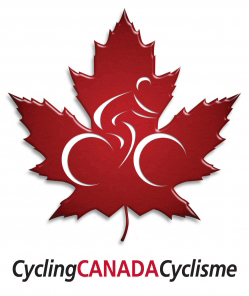 October 07, 2015 (Milton, ON) – The 2015 Canadian Track Cycling Championships will take place this week in Milton, Ontario, starting Wednesday. Over the course of five days, a modern era record-high 222 track cyclists coming from all over Canada will converge to the Mattamy National Cycling Center velodrome and compete for the ultimate honors of earning the red and white jersey, awarded to the Canadian Champion.
The venue played host to three major events this year alone, notably the Toronto 2015 Pan American Games as well as the 2014 Canadian Track Championships and the 2015 Milton International Challenge.
Mathieu Boucher, Cycling Canada's Director of Development, is pleased with the pre-registration numbers for these Championships. "We have been seeing steady increases over the last few years in our Canadian Track Cycling Championships attendance. There is momentum and energy right now with track cycling, notably thanks to our national team and their outstanding international results."
The 2015 Canadian Track Championships will be the last Elite Track Championships prior to the Rio 2016 Olympic Games. The event also serves for the National Team as a key preparation for the upcoming UCI World Cup season.
The evening sessions on Wednesday, Thursday, and Friday will require a ticket to enter the velodrome. Tickets can be purchased in advance here
Complete schedule and event details can be found here
SCHEDULE – 2015 CANADIAN TRACK CYCLING CHAMPIONSHIPS
(Note: Always refer to up-to-date technical guide for official schedule)
WEDNESDAY OCTOBER 7
Session 1 (Qualifications start at 4:15pm) (Ticketed Session 6:00pm)
Omnium qualification (if necessary) – Elite
Team sprint – Qualification – Elite
Team Pursuit – Qualification – Elite
Time Trial – Final – Para
Team Sprint – Final – Elite
Team Pursuit – Final – Elite
THURSDAY OCTOBER 8
Session 1 (8:00am)
Sprint – Qualification – Master
Sprint – Qualification – Elite
Omnium I – Scratch race – Elite
Sprint – Quarterfinals – Elite
Sprint – Quarterfinals – Master
Omnium II – Individual Pursuit – Elite
Session 2 (Ticketed – 6:00pm)
Sprint – Semifinals – Elite
Sprint – Semifinals – Master
Sprint – Final 5-8 – Elite
Sprint – Final – Master
Sprint – Final – Elite
Individual Pursuit – Para
Omnium III – Elimination race – Elite
FRIDAY OCTOBER 9
Session 1 (8:00am)
Team Sprint – Qualification – U17
Team Sprint – Qualification – Junior
Time Trial – Final – Master
Team Pursuit – Qualification – U17
Team Pursuit – Qualification – Junior
Omnium IV – Time Trial – Elite
Keirin – 1st round – Elite
Scratch race – Final – Master
Omnium V – Flying lap – Elite
Session 2 (Ticketed – 6:00pm)
Team Sprint – Final – U17
Team Sprint – Final – Junior
Team Pursuit – Final – U17
Team Pursuit – Final – Junior
Keirin – Final (7-12) – Elite
Keirin – Final (1-6) – Elite
Points – Final – Master
Omnium VI – Points – Elite
SATURDAY OCTOBER 10
Session 1 (8:00am)
Omnium – Qualification (if necessary) – U17
Omnium – Qualification (if necessary) – Junior
Keirin – 1st round – Master
Keirin – Final – Master
Omnium I – Scratch – U17
Omnium I – Scratch – Junior
Sprint – Qualification – U17
Sprint – Qualification – Junior
Session 2 (2:00pm)
Omnium II – Individual Pursuit – U17
Omnium II – Individual Pursuit – Junior
Individual Pursuit – Final – Master
Omnium III – Elimination – U17
Omnium III – Elimination – Junior
Madison – Final – Elite M & Master M
SUNDAY OCTOBER 11
Session 1 (8:00am)
Sprint – Quarterfinals – Junior
Sprint – Quarterfinals – U17
Sprint – Quarterfinals – Junior
Sprint – Quarterfinals – U17
Sprint – Final (5-8) – U17
Sprint – Final (5-8) – Junior
Sprint – Final – U17
Sprint – Final – Junior
Session 2 (1:00pm)
Omnium IV – Time Trial – U17
Omnium IV – Time Trial – Junior
Omnium V – Flying Lap – U17
Omnium V – Flying Lap – Junior
Keirin – 1st round – Junior
Keirin – Final (7-12) – Junior
Keirin – Final (1-6) – Junior
Omnium VI – Points – U17
Omnium VI – Points – Junior