October 24, 2012 (Toronto, ON) – Real Deal Racing and S2 Training Systems are proud to announce a partnership to create Real Deal Performance Centre at Gears Bike Shop.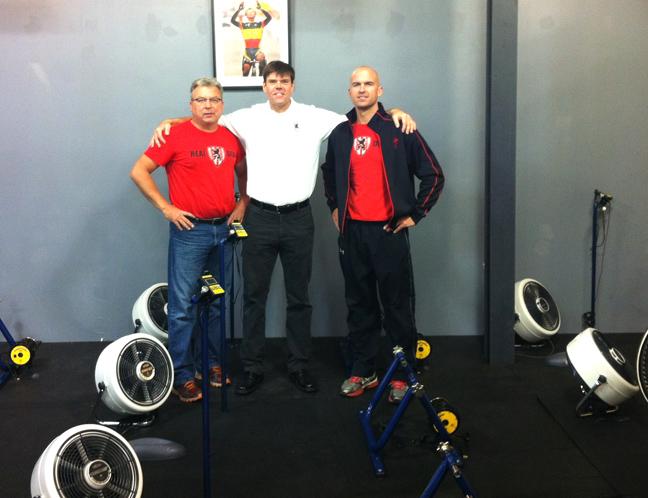 Real Deal Racing has always had coaching and performance as core values. Founder Ed Veal and his partner Mike Mandel have always believed that hard work and consistent dedication are the keys to success on and off the bike. They were introduced to Dr. Greg Gannon, a coach and exercise scientist with over two decades of experience and a proven record of improving an athlete's results. "I am excited about the opportunity to create a powerhouse team that brings together Real Deal, S2 and Gears Bike Shop." said Dr. Gannon.
Greg is a firm believer that hard work, backed by careful assessment and monitoring of training data, can help an athlete unlock previously hidden potential.
Together as equal partners they will form Real Deal Performance Powered by S2. The coaching group will be dedicated to combining a successful old school training approach with cutting edge science to offer a well-rounded coaching package to all cyclists looking to gain an advantage.
Gears Bike Shop in Leaside will provide the setting for a training studio which will offer indoor training in private or group settings throughout the winter months, and physical assessments and one-on-one training all year round.
The upcoming year looks promising with Real Deal Performance Powered by S2 and Gears Bike Shop set to offer cyclists a positive environment to shop, train, race, perform and above all experience a new direction in cycling culture.
The Real Deal Performance Centre launches Monday October 29th, with monthly indoor training starting as low as at $110. Please click HERE for more information.
About Real Deal Racing
Started in 2008 as a way for founder Ed Veal to share his passion for cycling with the world. It is built on Ed's enthusiasm and his belief that hard work every day is what makes a champion. In 2011 Mike Mandel was brought on to increase the outreach and help Ed bring things to the next level. Through coaching, racing and event promotion Real Deal seeks to get people on bikes and then help them find their passion one pedal stroke at a time.
About S2 Training Systems
Founded and directed by Dr. Greg Gannon, S2 Training Systems offers coaching and performance enhancement services to athletes looking to perform at their best.  Dr. Gannon's experience includes national & international coaching and applied sport science service, a decade of senior leadership roles within Canada's Olympic Sport Institutes, a broad academic background of teaching and research at multiple universities and research institutions. His clients are as varied as is his experience, ranging from professional, amateur and recreational athletes to business executives and Olympic coaches.  Please visit HERE for more information.
About Gears Bike Shop
Established by Kevin Wallace in 1988 as a humble store in an old train station in Clarkson GEARS is now known as one of the largest bicycle retailers in Canada.  It is staffed with professional and energetic individuals who are very passionate about their jobs, and the cycling community. GEARS believes that outdoor recreation is what creates lasting memories that will stay with customers forever.  With one visit to any of its three locations, GEARS hopes that people will make them the choice in the GTA, and they look forward to being your "link" to the outdoors.