January 31, 2016 (Quebec City, QC) – As we reported, Raphaël Gagné has now revealed that he will be riding for Cannondale in 2016 as announced on his Facebook page. He has been with Rocky Mountain for the past 10 years and made the pending switch public on Jan. 29 – read more here.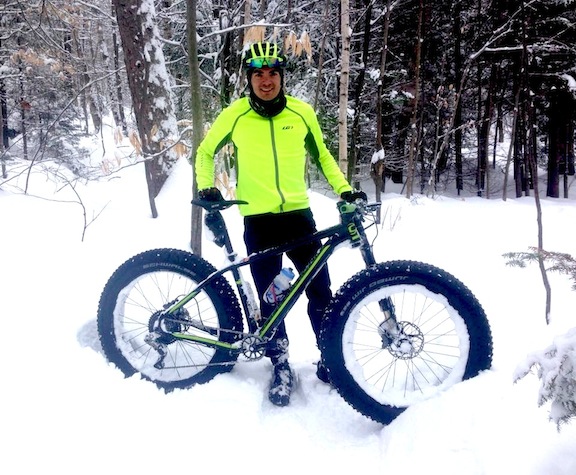 "Check out my new bike, Cannondale Fat CAAD for the race [Jan. 31]. I am so excited to announce that I will be riding a Cannondale as I head into this Olympic season, more news to come about team partners, athletes and race program from Cannondale Pro at a team camp in February. In the meantime, let me tell you that I'm in love with the Lefty and the Shimano MTB #Di2 on the snow, all speed and fun."
A new program will be rolling out soon from Cannondale, but meanwhile Gagné is racing at the inaugural Quebec Fat Bike Provincial championships this weekend on his new Cannondale Fat CAAD, hoping to add another title to his resume – he's the 2015 MTB and CX men's champ – more on the new fat bike championships here.
"We're extremely excited about Raphaël Gagné joining the Cannondale family," commented Hannah Parish, Cycling Sports Group's (CSG) new Director of Marketing for North America who is also Canadian. "We'll have more exciting news and plans to share soon and it's great to have him on board." – read more on Parish joining CSG here.
With Gagné and roadie Michael Woods both wearing new Argyle green for 2016 it looks Cannondale has scooped up two of Canada's top riders.