September 27, 2014 (Gloucester, MA) – The opening day of the 2014 Verge New England Cyclocross Series presented by Stan's NoTubes and Cycle-Smart was today's first day of racing at Rapha Super Cross Gloucester. Dry, dusty course conditions added an element of uncertainty to this fast course overlooking the Atlantic Ocean. Decisive features included two sets of stairs, a set of barriers, and characteristic off-camber swooping turns. The usual ocean breezes at Stage Fort Park in Gloucester were absent today, and racers faced an added challenge with summer-like heat.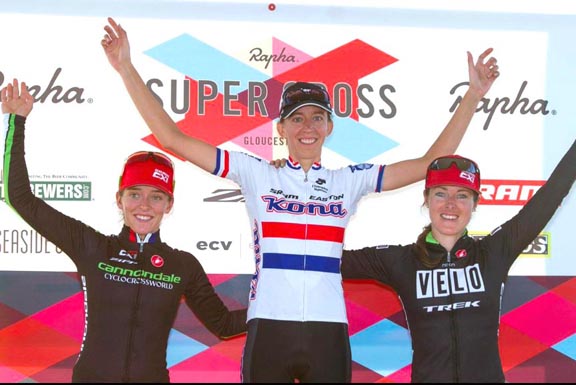 A massive Elite Women's field brimming with talent and speed took the course this afternoon, led by Helen Wyman (Kona Factory Racing), Gabby Durrin (Team Neon Velo), Kaitie Antonneau (Twenty16 Professional Racing Team), local powerhouse Crystal Anthony (Optum p/b Kelly Benefit Strategies), and Meredith Miller (Noosa Professional Cyclocross Team). On a fast course like Gloucester's, the group stayed together, playing tactical games and trading attacks.
Wyman controlled every attempt by her competitors to gain gaps, while the cat-and-mouse helped Ellen Noble (JAM Fund/NCC) and Caroline Mani (Raleigh/Clement) to bridge to the leaders. A broken wrist forced Mani to race in a cast, but she seemed unperturbed by this setback, riding stronger and stronger in the heat of the afternoon. Mani, Miller, then Anthony launched attacks, but a bike tangle involving Miller and Anthony took both out of contention. Wyman and Antonneau went clear in the last lap, creating a gap the remaining chasers, Mani and Durrin, couldn't close.
Although Wyman and Antonneau hit the final pavement stretch together, Wyman took the sprint. Antonneau followed for second, Durrin took third, and Mani claimed an amazing fourth despite her injury. Ellen Noble claimed the U23 women's win. "I'm happy with fourth, especially in my condition," said Mani of her race.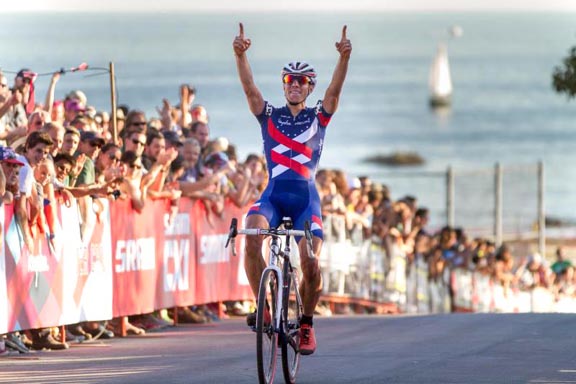 Next, the Elite Men were off, kicking up clouds of dust as they stampeded through the start. Allen Krughoff (Noosa Professional Cyclocross Team) grabbed the lead early on, and soon had a gap on the field. A worthy chase formed behind him, with strong contenders among the charge: Stephen Hyde (JAM Fund/NCC), Tim Johnson (Cannondale/Cyclocrossworld), Ben Berden (Raleigh/Clement), Jeremy Powers (Aspire Racing), Lukas Winterberg (MG-Cycling Team), Jonathan Page (Fuji/Spy), Curtis White (Cannondale/Cyclocrossworld), Dan Timmerman (House Industries/Simplehuman/Richard Sachs), and Jamey Driscoll (Raleigh/Clement).
The group remained intact, Krughoff setting a very fast pace while Winterberg and then Hyde followed second, until Powers attacked and quickly gapped the others. Although Krughoff tried to bridge to Powers, he found himself paying for his earlier efforts. Powers' gap only grew, and, as the chase mustered to bring him back, Timmerman went away from them. Powers rolled in for a solid win, Timmerman behind him, and Berden bested teammate Driscoll for third. White won the U23 victory with a great ride. Sadly, Miller needed stitches after her crash and won't be starting tomorrow's race.
"I was hurting at the beginning," said Powers. "I survived the attacks, then made my move. Gloucester is such a great race, especially today with the huge crowd cheering!"
In the earlier Series races today, coach to the Elites Al Donahue (JAM Fund/NCC) took the 35+ men's leaders jersey while heir to the Keough bike racing dynasty Ian Keough (Hot Tubes Junior Development) won the Junior Men's jersey. Curtis and Emma White's younger brother Harrison White (Cyclocrossworld Development Team) proved he'll be one to watch by winning the Cub Junior Boy's crown, while Ryley Mosher (Wheelworks) won the Girl's division. Paul Richard (Riverside Racing) won 45+ Men's, Bib Bisson (Maggie Rosas/Grace Barker/The Willo) won 55+, and Preston Buerher (B2C2 p/b Boloco) took the Category 3 Men's win.
In the first edition of the Series to offer a women's Category 3 race in addition to a beginner's Category 4 race, Becca Fahringer (JAM Fund/NCC) won the overall Cat 3 jersey, and Clara Kelly (NEBC) won 35+, while Turner Ramsay (KMS Cycling) won the Junior Women's division.
Results
Pro Women
1. Helen Wyman (Kona Factory Racing)
2. Kaitlin Antonneau (Twenty16 Professional Cycling Team)
3. Gabby Durrin (Team Neon Velo)
4. Caroline Mani (Raleigh/Clement)
5. Courtenay Mcfadden (GE Capital/American Classic)
6. Ellen Noble (JAM Fund / NCC)
7. Chloe Forsman (Backcountry.com Bike Team)
8. Maghalie Rochette (LUNA Pro Team)
9. Arley Kemmerer (PB2 Pro Cycling)
10. Laura Van gilder (Mellow Mushroom p/b Pink Siren Sports)
12. Mical Dyck (Stan's NoTubes)
13. Natasha Elliott (Ind)
48. Siobhan Kelly (To Wheels Epic Sports Performance)
53. Haley Smith (Norco Factory Team)
Pro Men
1. Jeremy Powers (Aspire Racing)
2. Dan Timmerman (HOUSE INDUSTRIES/SIMPLEHUMAN/RICHARD SACHS)
3. Ben Berden (Raleigh/Clement)
4. Jamey Driscoll (Raleigh / Cl+Ôø?ment)
5. Lukas Winterberg (MG-Cycling Team)
6. Allen Krughoff (Noosa Professional Cyclocross Team)
7. Stephen Hyde (JAM Fund / NCC)
8. Curtis White (Cannondale p/b Cyclocrossworld.com)
9. Justin Lindine (Redline Factory / NBX)
10. Tim Johnson (Cannondale Cyclocrossworld)
18. Michael Garrigan (Van Dessel/ Shimano/ POC)
28. Evan McNeely (Norco Factory Team)
31. Andrew L'Esperance (Norco Factory Team)
37. Peter Glassford (Trek Canada)
47. Jean-Philippe Thibault-Roberge (Trek Cyclocross Collective)
51. Edouard Tougas (Acquisio-ACQ)
66. Thomas Gauthier (Pivot Cycles-OTE)
88. Conor O'Brien (Ind)
89. Derrick St. John (Ind)