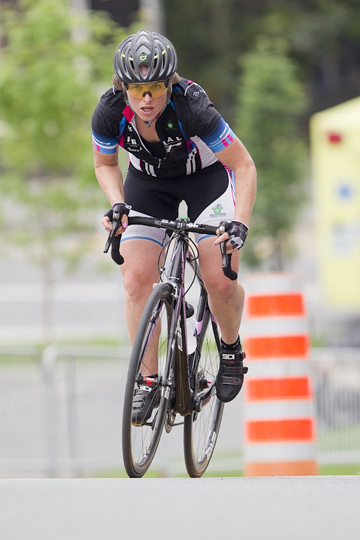 February 17, 2014 (Rimouski, QC) – Quebec rider Joannie Caron has joined the Georgia-based Garneau Factory Team according to the Avantage newspaper in her home town of Rimouski. Caron, who turns 30 this year, notes that the coaching staff at Garneau will help her to continue progressing as a rider.
Caron rode for Primal ProWomen in 2013 and considers sprinting to be her main strength. Among her accolades, Caron finished third at the Old Pueblo Criterium, Tucson in 2013 and was the overall winner of the 2012 BC Superweek, the same year she finished third at stage 1 of the Redlands Bicycle Classic. Caron has also recently completed an M.Sc in exercise physiology.
The team roster consists of 8 Elite Pro 1/2 Racers, according to the team website. "There is no shortage of talent, passion, drive and positive personalities within this group of athletes. The team is comprised of top, well respected cyclists nationally and internationally. These women consistently grace the podium in local, regional, national and international competition."
"Based in Georgia, the Garneau Factory Team will be focusing on the National Criterium Calendar (NCC) events as a registered USA Cycling Domestic Elite Women's Team. We plan to attend three UCI events (Winston-Salem, Philly and Gatineau) and race throughout the Southeast including the Georgia Championship Series (GCS) and the SpeedWeek Crit Series when our schedule allows."
Also according to the team website, Caron is the only Canadian aboard, and most of her teammates are from the U.S.A., but the title sponsor is Louis Garneau Sports of Quebec City.
Athletes:
Cheryl Fuller-Muller
Jenny Rios
Joanie Caron
Amy Bradley
Vanessa Drigo
Nancy Jones
Gina Voci
Lee Farabaugh
Team manager:
Tim Gallagher