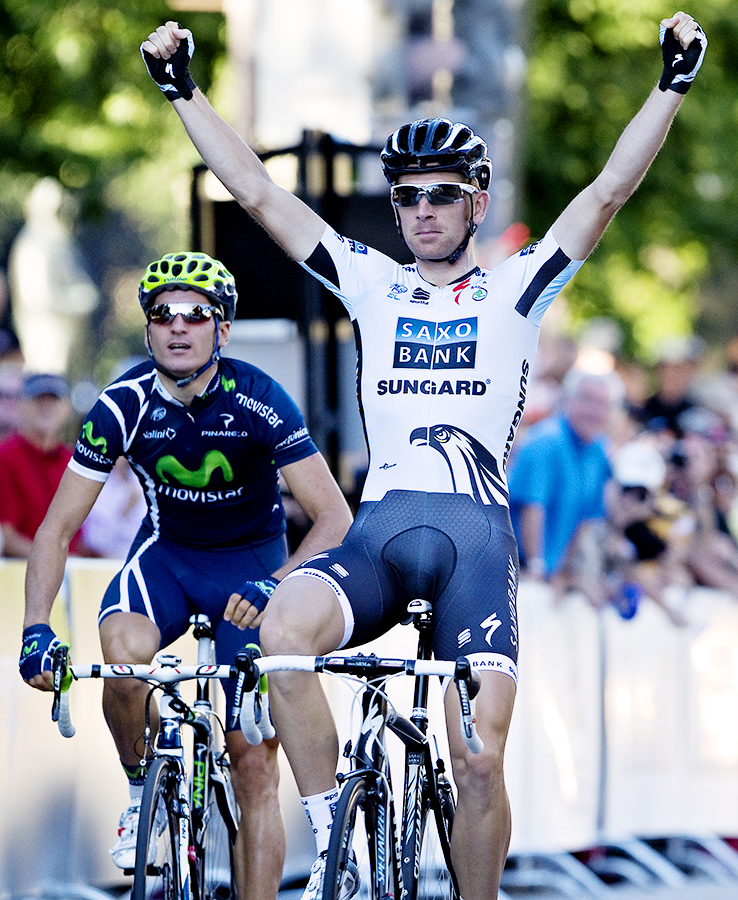 September 08, 2011 (Quebec, City, QC) – This premiere event saw 24 entries including Canucks Remi Pellitier-Roy (Garneau Club Chaussures) and Ben Chaddock (Team Exergy) who advanced from the Canadian sprint after their 1-2 finish. The 1,050 metre course was not without challenges that would figure in what tactics to use. "When I saw the course, the finish was slightly uphill and we had a headwind so I don't think I sprinted more than 100 to 120 metres in any of my races today," said winner Michael Morkov (Saxo Bank Sungard) of Denmark.
Chaddock drew a heat with Germans Fabian Wegmann and Gerald Giolek (Quickstep) who made Chaddock do all the chasing, putting the Canadian at an extreme disadvantage, especially heading into the last 450 metres into the wind. But Pelletier-Roy, with a huge pro-Quebec crowd cheering him on, was only a tire width from making it to the finals – clearly this young sprinter is going places.
The semis saw plenty of cat and mouse games with Enrique Sanz from Movistar and Robbie Hunter of Team RadioShack out-sprinting Ciolek and Pelletier-Roy to move up to the finals in the first grouping.
In the second, it was Australian Simon Clarke of Pro Team Astana and Denmark's Morkov  taking the sprint over Columbian Leonardo Duque of Cofidis, and Russian Nickolay Trusov of Team Katusha.
This set up a final with Clarke, who said afterward he does not see himself as a sprinter; Morkov, who says it was his training as a Madison rider that paid off, making him fresh for the final after four heats; Sanz, and South Africa's Hunter. Clarke only decided on the day of the event to race, replacing teammate Assan Bazayev at the last minute. He turned out to be an excellent replacement. Clarke led from the gate, setting less than a racing speed pace until the U turn. He took the corner extra wide which forced others to come through.
At this point the race slowed to a snail's pace as no one was willing to ride at the front. But Sanz stayed in the fourth position and used the snaking cyclists ahead of him to his advantage.
After one particularly slow negotiation that took the other three from one side of the road to the other, Sanz made his move with approximately 120 metres to go, flying out from the right hand side while the competition was at a near dead stop on the left. Within seconds he had multiple bike lengths, but Morkov saw him first and cranked it up. He made up the gap and continued, making the win close but decisive. Sanz took second while Clarke was third.
All three cyclists congratulated the organizers, saying the event had large crowds and was "fun" to race. "Sanz started the sprint and put it pretty good for me," said Morkov. "I was in a good position. I don't really consider myself a sprinter. I have no results in the bunch sprints."
Clarke added part of the fun for him was that he only heard about it at the last minute. "I just tried to come and enjoy myself tonight." He also suggested they move the sprints up one day earlier to afford a day of rest before the road race. "We may not be the best sprinters in the bunch tomorrow. Perhaps other good sprinters decided to rest today."
Results (brief)
1. Michael Morkov (Den) Saxo Bank Sungard
2. Enrique Sanz (Esp) Movistar Team
3. Simon Clarke (Aus) Team Astana
4. Robbie Hunter (RSA) Team RadioDhack