September 08, 2011 (Quebec, City, QC) – On a perfect late summer day in a city committed to cycling, twelve top Canadian riders formed three heats as they raced by the Quebec Legislature, flying under archways and making a quick U-turn in an out-and-back course of 1,050 metres and a grade of one metre. The heats and semis were all out affairs.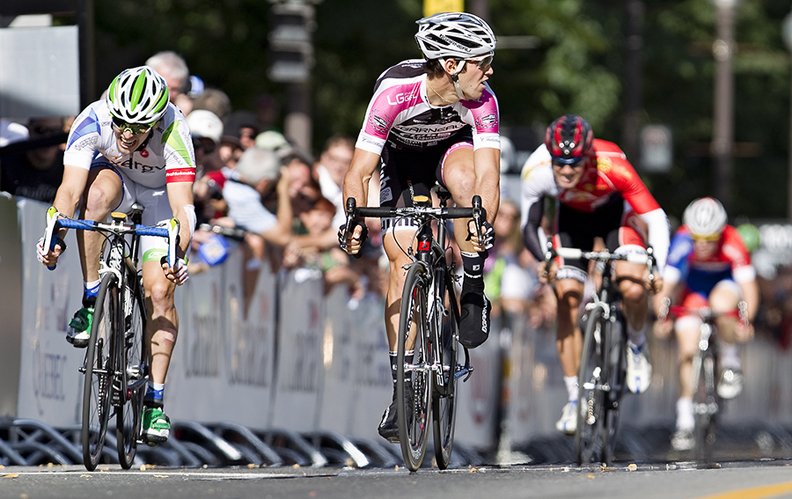 But the final was a cat and mouse dance as Remi Pelletier-Roy had a brilliant ride letting Team Exergy's Ben Chaddock lead slowly out of the gate, with Team Spirit GTH Cannondale's Pierre-Etienne Boivin on his wheel. Pelletier-Roy and Gaspesien's/Passion Velo's Francois Chabot followed at least ten metres back for the first 500 metres.
By the turn around they were tighter with Boivin leading out and Pelletier-Roy on his wheel. With approximately 200 metres to go Pelletier-Roy let loose. At 100 metres Chaddock tried to answer him with a come from behind sprint to the left of the bunch.
It looked like Chaddock would take it, but Pelletier-Roy, with a display of serious horse power, hung on for a brilliant win. Chaddock was a solid second while Chabot took the bronze and Boivin finished fourth.
First and second moved on to the Pro Sprint being held just 20 minutes later.
Results (brief)
1. Remi Pellitier-Roy (Garneau Club Chaussures)
2. Ben Chaddock (Team Exergy)
3. Francois Chabot (Gaspesien/Passion Velo
4. Pierre-Etienne Bovin (Team Spirit Gth Cannondale