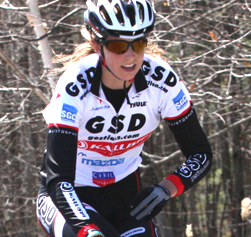 May 27, 2013 – The FQSC held a two-day, three-stage selection event just outside Quebec City this weekend to name their team for the upcoming Canada Games in Sherbrook, Quebec.
Quebec demonstrated why they are perennially the strongest province in the country with nearly 70 men and 25 women vying for selection. The event was run in accordance to Canada Games rules: juniors and U23's with no gear restrictions, only one frame allowed (no TT bikes) and a points-race criterium.
At the end of the three events the team was named as follows:
Women
– Alizee Brien (GSD) winner of the TT and GC
– Elizabeth Albert (Rocky Mountain) winner of the Road race and selected off of her GC position.
– Anne-Marie Morin (GSD) won the criterium
– Gab Pilot-Fortin (Kenda) was 3rd in the RR, 2nd in the TT and 3rd in the crit
– Adriane Provost (Stevens pb/ The Cyclery) was the coaches choice position- 4th in the crit, 4th in the ITT and 7th in the RR
Alternates
First alternate is Audrey Bernard (Stevens pb/ The Cylery) who was 2nd in the crit, 6th in the RR and 6th in the TT. The second alternate is Evelyne Gagnon (5th in the RR, 3rd in the TT)
Men
– Antoine Duchesne (Bontrager) – preselected based on previous results.
– Pierrick Naud (Garneau-Quebecor) – won the crit.
– James Piccoli (Medique) TT winner
– Jordan Brochu (Ekoi-Devinci)
– Emile Jean (Ekoi-Devinci)
Alternates
– Elliot Doyle (Medique)
– Olivier Delaney (Medique)
– Simon-Pierre Gauthier (Garneau-Quebecor)
It was interesting to watch how hotly contested this event was, and how much the athletes put into their selection.  Audrey Bernard (Stevens) for example was racing with a separated shoulder from a crash in the Gatineau GP and almost assuredly would not have raced under any other circumstance, while Alizee Brien and Anne-Marie Morin both have UCI points this year yet still had to vie for selection – with Morin in particular not having a spot assured until her win on the last stage.  It's safe to say that many of the young men and women vying for these spots on the Quebec team would be players on just about any other provincial team.
Team Coach Pascal Choquette commented that many of the athletes named to the team this year, had raced the selection event as juniors in the last quadrennial, pointing out that the weekend provided an excellent racing experience for the junior riders to compete against the U23s.
The well-run events also had clearly defined selection criteria which can serve as a template for all provinces. Congratulations to all of the athletes for their nomination to the Quebec Team.