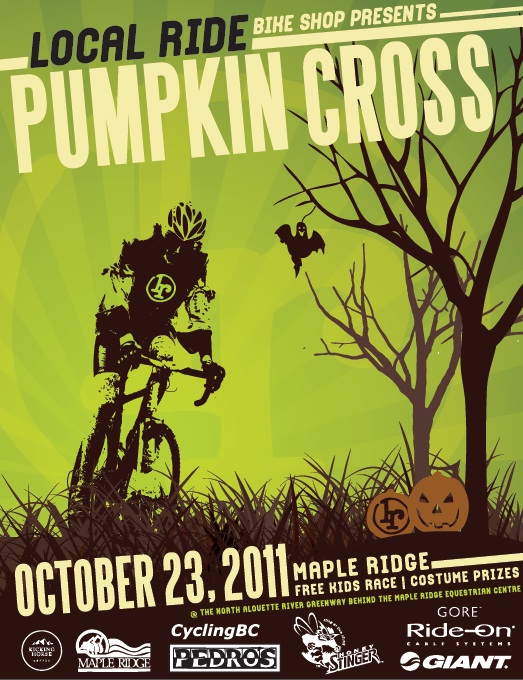 October 19, 2011 (Maple Ridge, BC) – With Pumpkin Cross presented by Local Ride Bike Shop looming, it's time to put the final touches on your costumes, register, and get pumped up for a day of spooky fun on your bike. Local Ride Bike Shop can help with all of the above just in time for Sunday's big event.
"We're very excited about the Pumpkin Cross brain trust putting together another spectacularly spooky yet fiendishly fun labyrinth of race tape that will take riders over chilling obstacles and through creepy places," said race organizer Barry Lyster. "This is our fifth year putting on the race and it just keeps on getting bigger, it's scaaary!"
Pumpkin Cross will also be experiencing some star power on Sunday with current World XC Mountain Bike Champion and Olympian Catharine Pendrel of Kamloops set to contest the elite women's competition. Pumpkin Cross has a history of celebrity sightings, including Austin Powers, the Count, the Incredible Hulk, Britney Spears, the Ninja Turtles, Peewee Herman, and singlespeed Cyclo-Cross World Champ Drew Mckenzie.
To get you pumped, Local Ride Bike Shop's good friend, Dean Wilkes, has compiled footage and photos from Pumpkin Cross 2010 into a sweet race teaser video. Check it out HERE.
Save yourself some time on race morning and avoid the $10 late fee by pre-registering online before 6:00 pm on Friday, October 21, click HERE.
If you miss the pre-registration deadline, you can download the Pumpkin Cross registration form (PDF) HERE, print and fill it out at home, and present your $35 cash (plus $10 day-of license, if applicable) to the lovely (or ghoulish) volunteers at registration on Sunday. Exact change is greatly appreciated.
For costume ideas and fabulous photos, check out Alan Young's 2010 Pumpkin Cross Flickr gallery HERE.
Pumpkin Cross is made possible by the support of Local Ride Bike Shop, the District of Maple Ridge, Maple Ridge Equi-Sport Centre, Giant Bicycles, Cycles Lambert, Cycling BC, Pedros Tools, Lezyne Engineered Design, GORE Ride-On Cables, Maxxis Tires, Honey Stinger Energy Foods, Kicking Horse Coffee, and Pedal Magazine.