January 25, 2018 (Montreal, QC) – The Probaclac-Devinci cycling team is proud to announce that it will be racing under the UCI Continental license in 2018. In other words, the team acquires a professional status.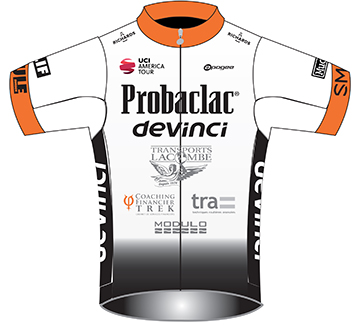 The organization went through all the stages to achieve this much-desired status. The association with our new major partner Probaclac partially contributed to this achievement. As a local firm, recognized from coast to coast, Probaclac is known for its excellent probiotic products.
Despite its professional status, the team relies on young people with potential as cyclists, but also on an academic level. Probaclac / Devinci therefore supports student success and perseverance. " Cyclists' careers are getting longer and it is inconceivable that a young athlete sacrifices his studies to devote himself solely to cycling. We prefer to offer a shorter schedule to athletes and allow them to progress on both counts at the same time, " says team owner Stéphane Tremblay.
This year, the team will be made up of 10 cyclists, including six athletes from the 2017 edition: Hendrik Pineda, Olivier Péloquin, Francis Izquierdo Bernier, Stephen Keeping, Felix Dolbec and Max Rubarth. They are joined by Olivier Brisebois, Julien Gagne, Édouard Beaudoin and Connor Topping.
In order to know our athletes and their ambitions, their profiles will be presented one by one on a weekly basis in the upcoming weeks on our Facebook and Instagram pages.