Premier Studio
and
High Performance Sport
merged into
Premiere Performance
as of November 1. Premier Studio has for many years been a
PowerWatts
™ (an indoor training system for cyclists) franchise and this relationship continues under Premiere Performance.
Paulo Saldanha
, an exercise physiologist by training. "We have therapy and reconditioning here that looks at faulty movement and at rehabilitation. We have a health and fitness studio that is popular with many sports-conscious executives. And we have a high performance centre for conditioning that brings clients closer to their potential. All told we have a staff of 35 here."
Saldanha showed off the centre's "K-2" room used for high altitude training. "This facility served as a model for the Milton (Mattamy) Velodrome and can suck oxygen out of the air to replace it with nitrogen. We can recreate atmospheric conditions similar to what you'd find at 25,000 feet elevation."
"This centre saved my career in 2010," explained former WorldTour rider, Guillaume Boivin (who just signed with Optum p/b KBS in 2015 after riding for Cannondale in 2014). "When I finished third at the U23 Worlds that year, I could ride but barely walk because of a knee injury. Paulo and his crew followed me after that…" He spoke highly of the egalitarian camaraderie felt at Premiere between elite athletes and members of the public who also train there.
Mike Woods
(Optum in 2015) this morning."
Pedal
then spoke to Woods who revealed that he will be returning to Hawaii in December "to shatter Ryder's record on the Haleakala climb on Maui."
Ryder Hesjedal
(Garmin-Sharp) once held the world record of 2:32:51 on this 3,055m elevation gain over 56km before Woods beat this in 2013 with a time of 2:32:24. But the main reason Woods is heading to Hawaii is to marry his fiancée,
Elly Robertson
, also of Ottawa. Robertson joked that the honeymoon would include her riding tandem with Woods as he goes up Haleakala.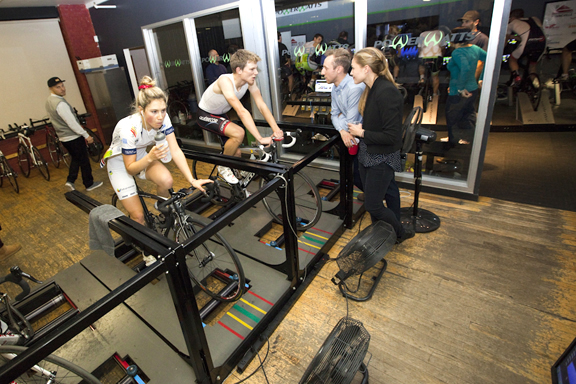 Alex Cataford (Medique p/b Silber Investments in 2015) has been training at the centre and rehabilitating himself since being hit by a car in early 2013 while training in Arizona. The 21-year-old, third-year physics student at McGill University finished third among the Elite men at the 2012 Canadian Championships ITT, but has been sidelined since then because of his injuries.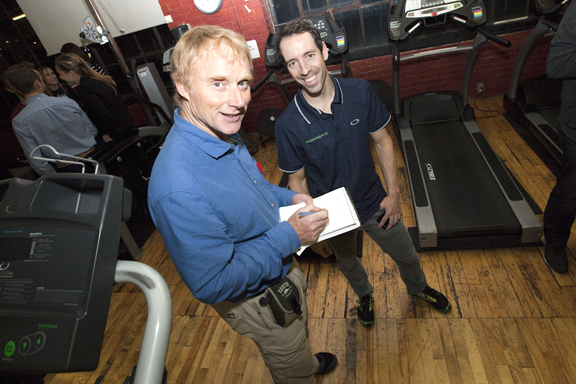 Francois Parisien (who rode for WorldTour team Argos Shimano in 2012) also speaks highly of Premiere, now working there full time doing marketing and communications for the studio. He also works as a sports commentator for the RDS TV network, and covered 55 bike races in 2014.
Simon Lambert-Lemay
(Garneau-Quebecor) winner of the Mardis Cyclistes crit series in 2014, his third consecutive title there. Lambert-Lemay conducts spinning classes for Powerwatts.
Lex Albrecht (returning to Optum in 2015 after a season with Twenty16), the current Quebec RR and ITT champ, tells us she has been training at Premier Studio for two years. "I really like it," she says. "The atmosphere is great and there is a lot of expertise under one roof here." Catherine Desserault (SAS -Mazda – Macogep), who has been a client for one year, agreed with Albrecht on this.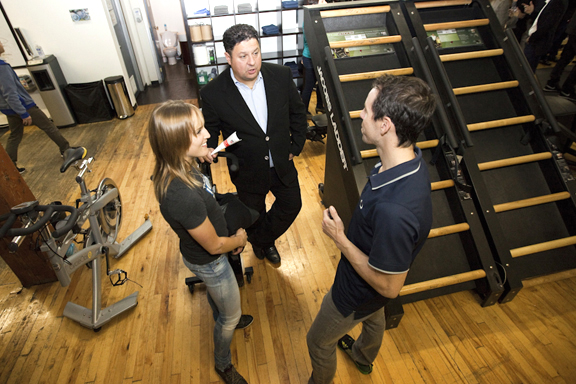 Alizee Brien (TIBCO) also spoke highly of the centre and of her coach there, Chris-Rozdilsky. Brien, when she is not on a bike, is an engineering student at Polytechnique. She takes a heavier course load in the fall and winter to free up her schedule for cycling competitions in the spring.
Joelle Numainville (Bigla in 2015), the Canadian road champion in 2013, has been training at Premier Studio for five years and is obviously happy with services offered. Numainville told us she recently started a Masters after completing her BA in administration at UQAM in December, 2013.
Pierrick Naud (Optum in 2015) was the only well-known Quebec road cyclist present who is not currently training at Premiere. "Maybe someday…" mused the rider who was on hand to share a glass with his friends.
The Premiere soiree also served as a product launch for the Kinex System of performance cycling shoes. Developed by Michel Chiasson and others at the University of Ottawa, the new system was on display with demonstrations. "It feels like your foot is directly attached to the pedal," explained Scott Delaney of Montreal. More info here.
Pedal also spoke to one of the invitees who is a Montreal realtor and passionate cyclist, golfer, and skier. This busy executive likes to work out at Premiere during his lunch hours and appreciates the cycling vacations (or should that be training camps?) offered to venues such as Arizona, California, and Spain.
The setting is in the large warehouse where Simmons mattresses were once made and where the Techno Cycle bicycle mechanic school can also be found. Cyclists passing by on an adjacent bike path (Canada's first bike path dating from 1978) alongside the Lachine Canal can easily look through many windows into Premiere Performance studio.
For more information visit here.